Local. Family Owned. Trusted.
The House and Soft Washing Experts
Searching for


The House & Soft Washing Professionals?
At Lyonridge the customer always comes first. 
Lyonridge Property Services offers a premium House Washing service, each House Wash includes all siding, gutter faces, and soffits. The House Wash process utilizes a Soft Wash method that uses a biodegradable cleaning solution applied at low pressure, allowed to dwell for a short time and followed with a soft rinse.
The Reason we use Soft Wash versus Pressure Washing is to ensure we achieve a 100% kill ratio of any infestations such as algae and mildew while eliminating any chance of damage to your delicate siding. 
Our House Wash service is perfect for 
 – vinyl siding
 – hardi board 
 – stucco
 – painted surfaces
At Lyonridge the customer always comes first. 
Soft Washing is becoming an industry favourite, this method allows technicians to apply disinfectants and detergents at low pressure. These biodegradable soaps used in Soft Washing loosen any dirt, algae or organic growth allowing the solution to achieve a deep clean. 
Once the Soft Wash solution has had a long enough time to suffiently eliminate organic growth and stains, the solution is then rinsed away with garden hose pressure. This method ensures that no damage will occur and your house will be cleaner for longer.
Give your home the love it deserves, hire Lyonridge Property services to wash the exterior of your house!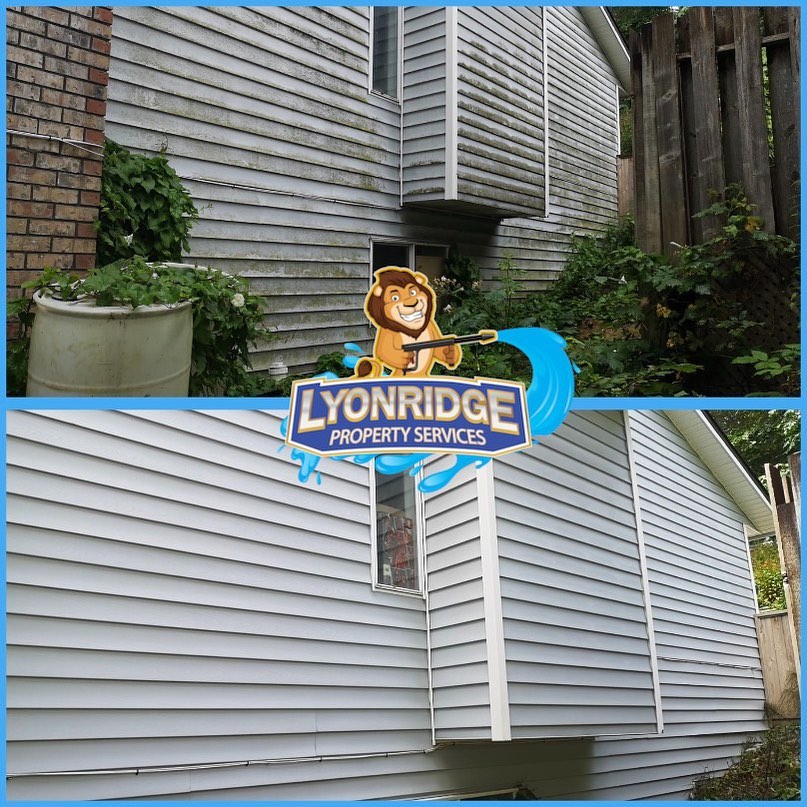 Call Us Today for a Free Quote!
We want to earn your business and turn you into a long-term customer. 
Purchased our home 5 years ago and recently had the guys from Lyonridge "wash" the roof to remove a build up of debris. The difference is unbelievable! Had no idea our roof ever looked like this. Looks like a brand new roof!
Rich and Jordan delivered top quality customer service on the house washing. They went above and beyond of what was expected and I would highly recommend them to anyone else!
Austin W.
Facebook Review
Fantastic service! Rich cleaned the exterior of the house and made it look brand new, including the fence and sidewalks. Totally recommend.
Tanner P.
Nextdoor Review
House & Soft Washing
Done Right.
Our team of professionals work relentlessly with one goal in mind. That is to exceed your expectations and help transform your home or business to a breathtaking level.