Local. Family Owned. Trusted.
And the surrounding areas
Top-Rated


House Washing in Delta
At Lyonridge the customer always comes first. 
There's no better company in the area to call to get rid of unwanted materials from the exterior surfaces of your home than Lyonridge Property Services. Your home has to put up with a lot of elements on a daily basis, like weather, stains, organic materials, etc. These materials are not only unsightly, but they can actually cause harm to your home by eating away at its materials. Having stubborn stains on your home or organic growth that just won't go away can be incredibly frustrating, especially when you're just wanting a clean and healthy environment to call home. Luckily, cleaning off these materials from your home is easier than you may think. Our house washing service is a way to remove unwanted materials and transform your home in no time.
Searching for


Delta House Washing near me?
Homeowners attempting to clean the outside of their homes isn't uncommon. Most homeowners don't own a pressure washing system which means that they use household cleaning products, a hose, and a sponge to scrub off the dirt, organic materials, bird droppings, dust, debris, etc., from their home. This is incredibly time-consuming and not an effective way to spend your time. Not to mention, these methods aren't capable of completely removing these materials. Pressure washing can cut the time that you scrub your siding in half. However, we also don't recommend that homeowners use a pressure washer. Most homeowners have never used a pressure washer, and unless you understand how to fully use one, it's not advised that you do. If used incorrectly, in the blink of an eye, you could get hurt. You also risk damaging your siding, breaking a window, etc. If you're not properly trained to use a pressure washer, it could be incredibly dangerous to just pick one up and use it. This is one home project that should be left to the professionals. Our team has experience removing stubborn stains and materials from your home that you otherwise wouldn't be able to remove with household products and a hose. If you've been looking for Delta, BC house washing near me, our team is here to help!
Hiring a pressure washing company, like us, to take over this task for you offer several benefits, which include:
Saving time and money– While house upkeep, like house washing, does cost money, upkeep is cheaper than having to prematurely repair or replace the exterior surfaces of your home. Our services also save you time compared to cleaning these surfaces yourself.
Extending the life of your home's materials– Routine cleanings will keep your siding clean and minimize the amount of organic growth on your siding. This will keep your siding well-maintained and promote longevity in the long run.
Top-notch results– When you work with us, you can expect the best results possible, every single time. We will also make sure that we get the job done correctly the first time around.
Catching problems with your siding early– When the exterior surfaces of your home are dirty, they can mask problems with your siding. You don't want to miss any potential repairs, especially when they can easily turn into costly repairs and replacements when the problems are overlooked and neglected.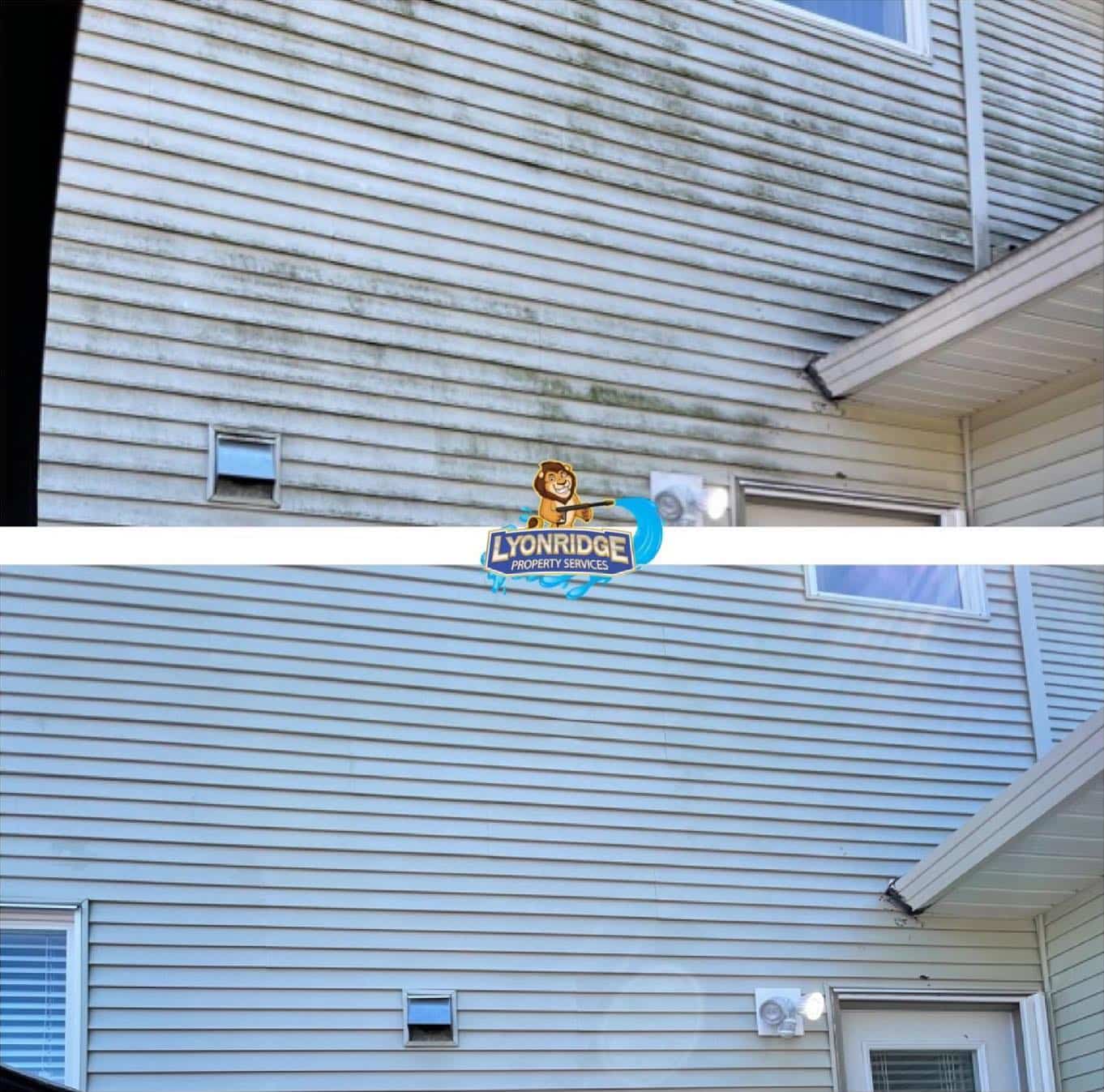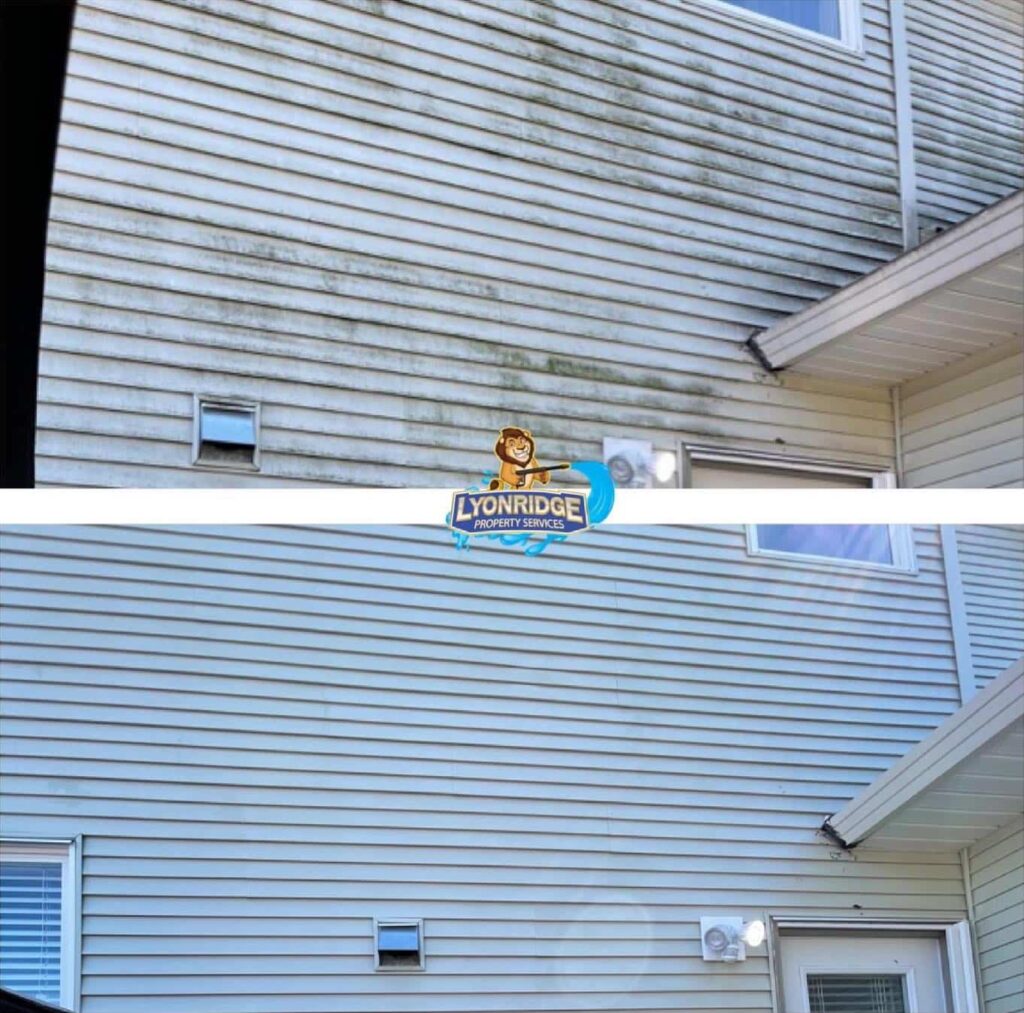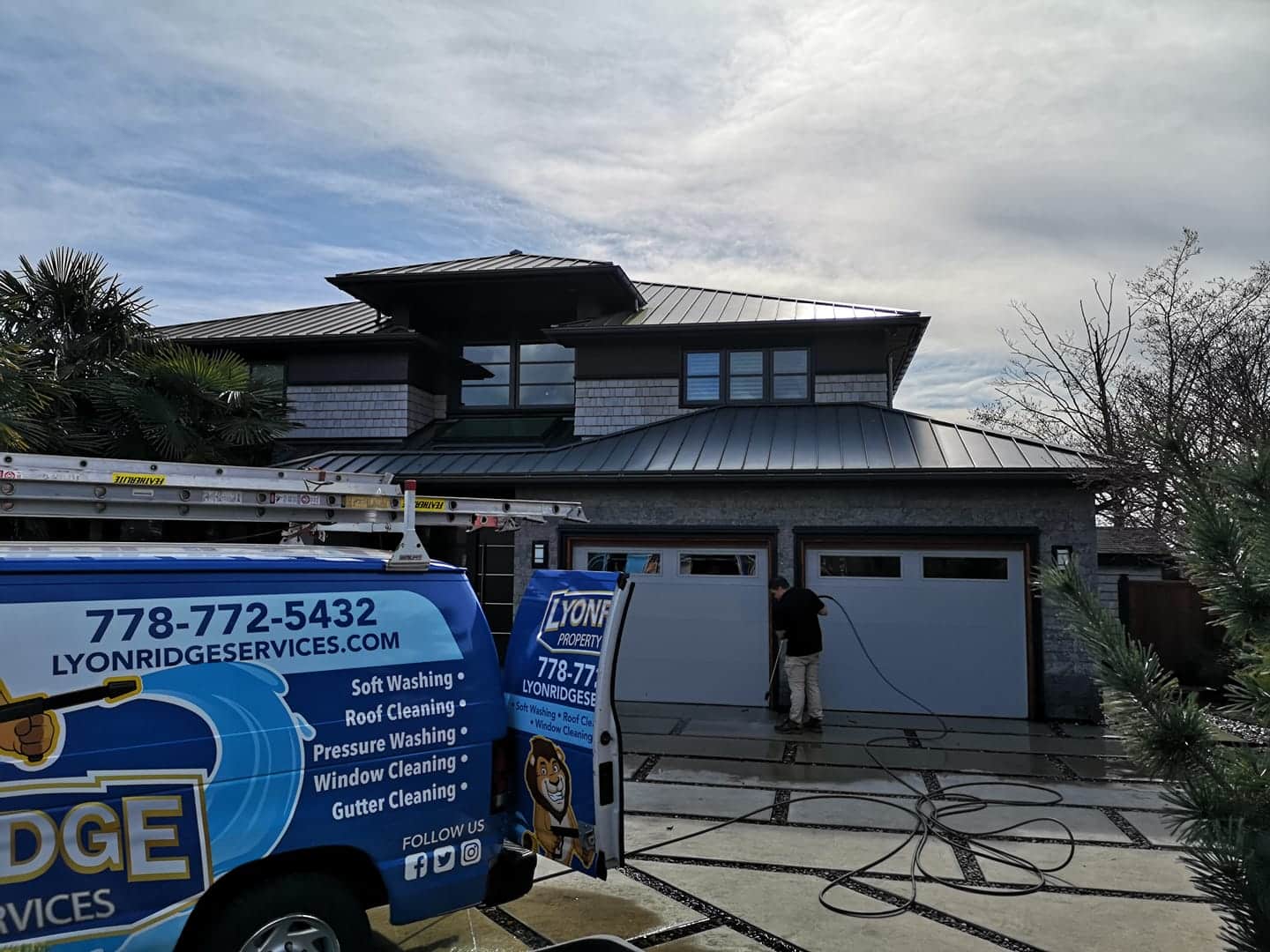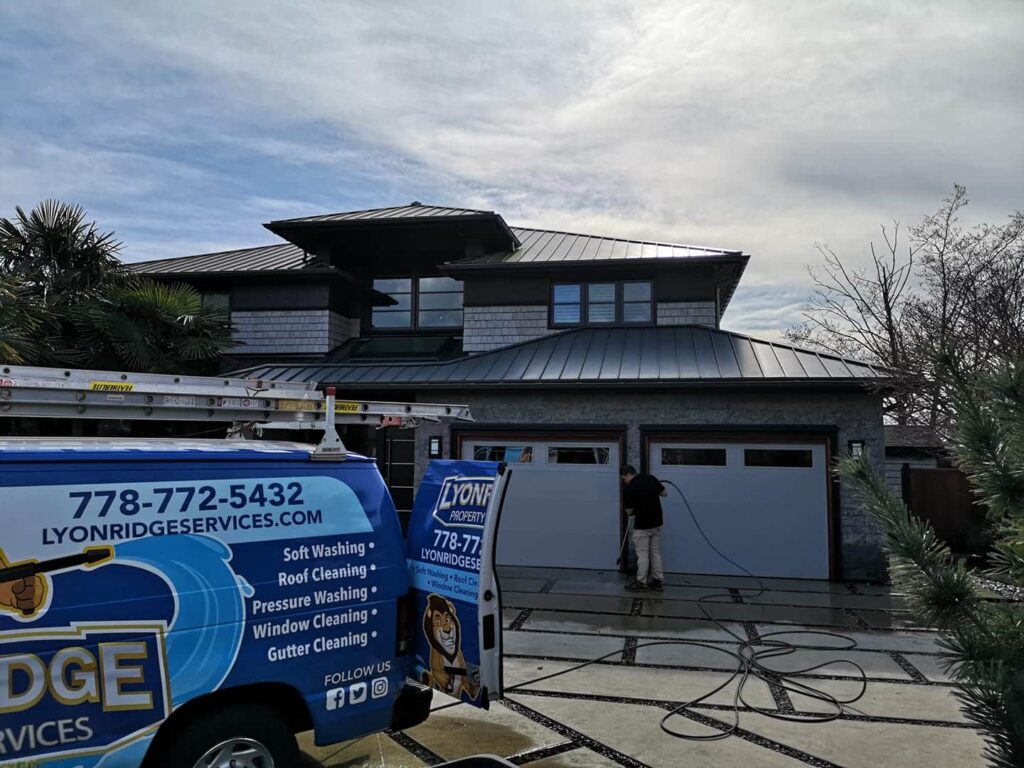 Call Us Today for a Free Quote!
We want to earn your business and turn you into a long-term customer.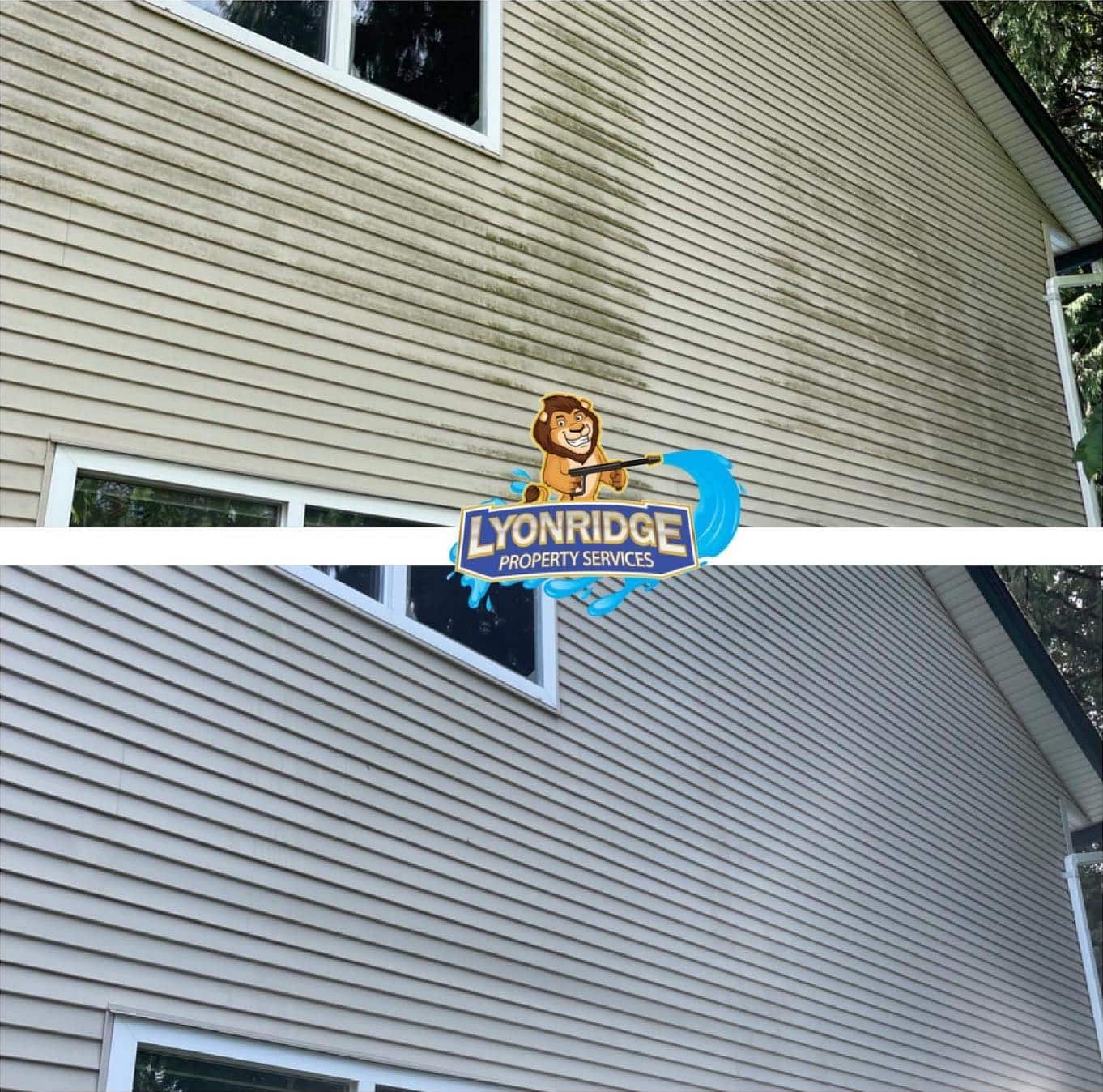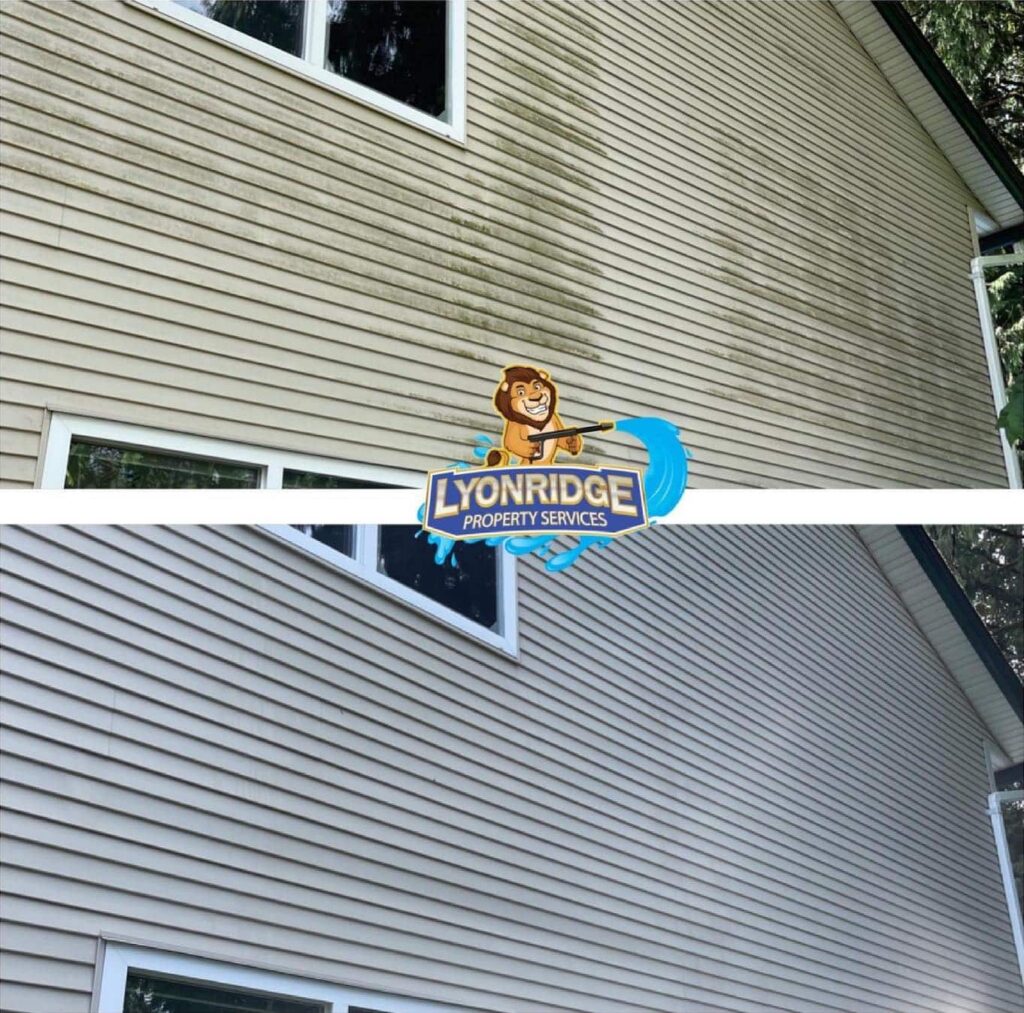 Expert


Exterior House Cleaning Delta Residents Trust
Lyonridge Property Services is a dedicated, hardworking, and professional company that offers high-quality exterior house cleaning in Delta, BC. We strive to provide you with only the best services and results possible using top-of-the-line products, equipment, and methods to carefully clean your home without causing harm to your home's materials. We also utilize a soft wash method during our exterior house wash service. A soft wash method is a low-pressure setting that is gentle enough to not harm the materials of your home, while also effectively cleaning those surfaces.
Purchased our home 5 years ago and recently had the guys from Lyonridge "wash" the roof to remove a build up of debris. The difference is unbelievable! Had no idea our roof ever looked like this. Looks like a brand new roof!
Rich and Jordan delivered top quality customer service on the house washing. They went above and beyond of what was expected and I would highly recommend them to anyone else!
Austin W.
Facebook Review
Fantastic service! Rich cleaned the exterior of the house and made it look brand new, including the fence and sidewalks. Totally recommend.
Tanner P.
Nextdoor Review
Call Today for Exterior House Washing in Delta BC!
Has it been a while, or ever, since you've had the outside of your home cleaned? While it's recommended that this be done an average of once or twice a year, many homeowners neglect this project. While cleaning the inside of your home is important, many people don't know that cleaning the outside of your home is equally important for the health of your home and its exterior materials, the curb appeal of your home, and more. At Lyonridge Property Services, we provide house washing Delta, BC, residents trust.
Having a clean home that you can proudly show off to your neighbors and guests is just a phone call away. At Lyonridge Property Services, we look forward to boosting the curb appeal and overall health of the exterior surfaces of your home with our convenient, quick, and simple exterior house washing services. Make sure you contact our team today to learn more about our house-washing services!