Local. Family Owned. Trusted.
House Washing Langley Township BC
And the surrounding areas
Refresh Your Home


with House Washing in Langley Township
At Lyonridge the customer always comes first. 
Langley Township is a diverse and vibrant community located in British Columbia, Canada. It is situated in the heart of the Lower Mainland, just east of Vancouver, and is part of the Metro Vancouver Regional District. The township covers an area of approximately 316 square kilometers and has a population of over 130,000 people, making it one of the largest municipalities in the province.
Langley Township is known for its rich history, scenic beauty, and a strong sense of community. It has a diverse range of attractions and amenities, including parks, museums, galleries, theaters, shopping centers, and restaurants. The community is also home to several major events and festivals throughout the year, such as the Langley International Film Festival, the Langley Farmers Market, and the Langley City Canada Day Celebrations. While Langley is a beautiful place to live the area's damp climate and frequent rainfall can cause dirt, grime, mold, and mildew to accumulate on the exterior of homes, resulting in an unsightly appearance and potential damage to the property.
Regular house washing can help to prevent the buildup of these contaminants, keeping homes looking clean and well-maintained. It can also protect the property from damage caused by moisture and mold growth, which can weaken the structure and lead to costly repairs.
House washing can be particularly important for homes located near major roads or highways, where pollutants such as vehicle exhaust and dirt can accumulate on exterior surfaces. These contaminants can not only be unsightly but can also be harmful to the health of those living in the home. This is where Lyonridge Property Services steps in with our exceptional house washing services in Langley Township.
Professional


Exterior House Cleaning in Langley Township
Exterior house cleaning is more than just an aesthetic practice—it's an essential aspect of home maintenance. It involves the removal of accumulated dirt, grime, algae, and mold from the external surfaces of your home, restoring its original charm and preventing potential damage caused by these elements. From siding to brickwork, our house washing services cater to a range of surfaces, ensuring your home shines bright, no matter its construction. Our exterior house cleaning services in Langley Township are renowned for their attention to detail and dedication to delivering the best possible results. We take a different approach from other house washing contractors in Langley, we offer state-of-the-art soft wash exterior house washing, a gentle yet highly-effective house washing method.
Soft washing differs from traditional pressure washing by using a low-pressure water flow combined with a biodegradable cleaning solution. This approach effectively cleans your home's exterior without the risk of damage associated with high-pressure washing. It's especially suitable for delicate surfaces, including stucco, wood, and older brickwork, offering a safe and effective exterior house wash.
We're able to use eco-friendly detergents that help break down stubborn dirt, mold, and grime before washing. We know residents of beautiful British Columbia love the environment and we are devoted to protecting and preserving it for future generations!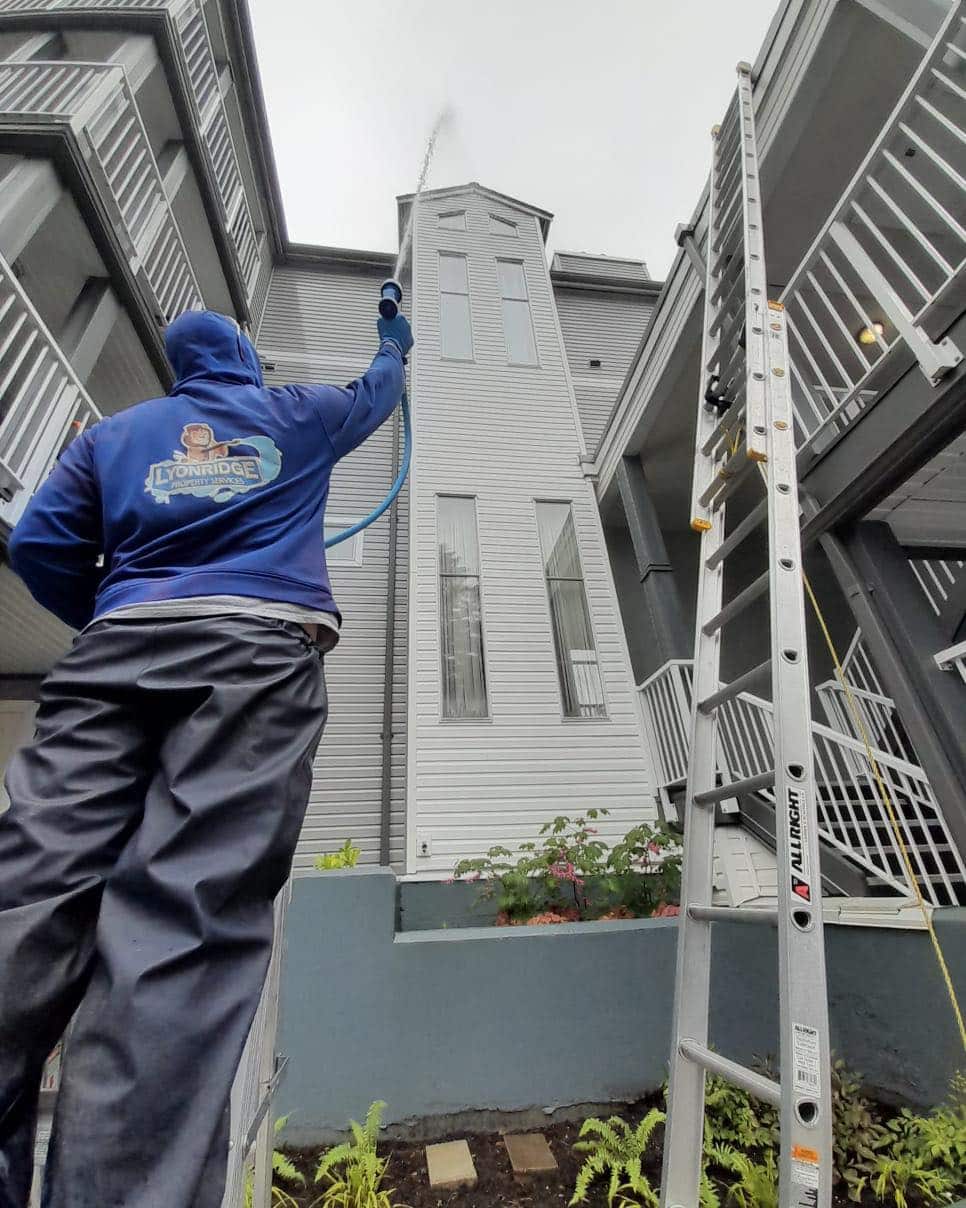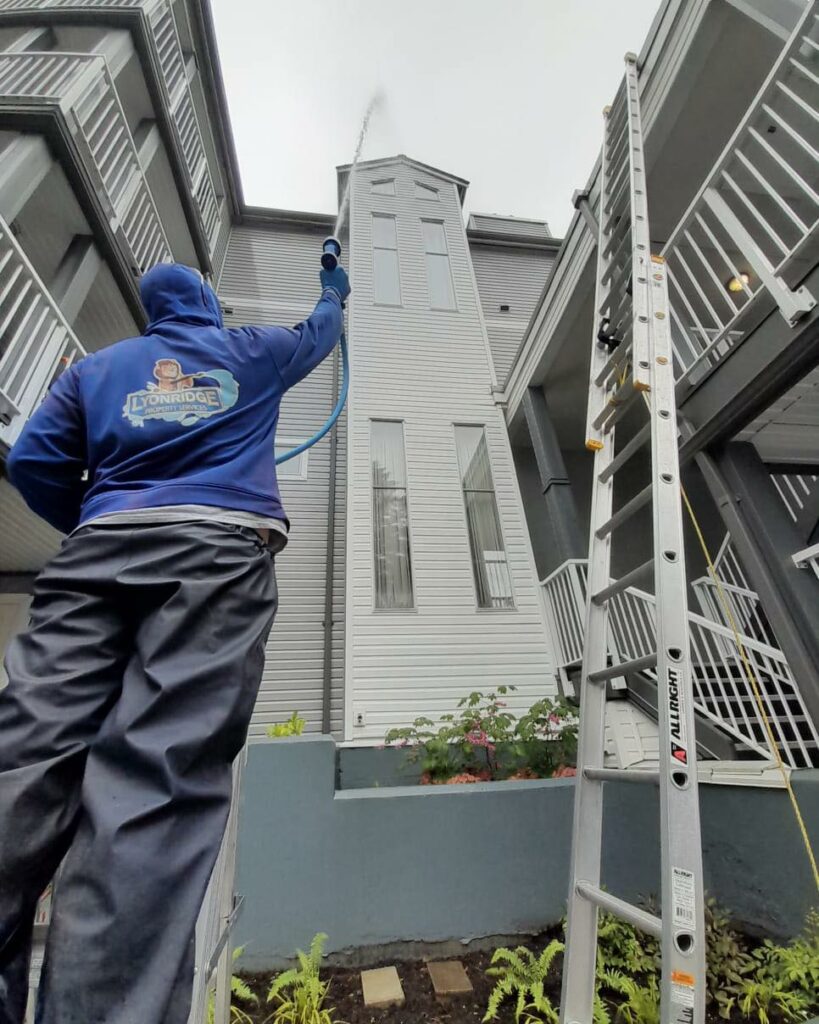 Call Us Today for a Free Quote!
We want to earn your business and turn you into a long-term customer. 
Your Go-To


House Washing Service in Langley Township!
When it comes to house washing companies in Langley Township, Lyonridge Property Services leads the pack. Our commitment to quality, combined with our understanding of the local climate and architectural nuances, makes us the perfect choice for your house washing needs.
Our team of skilled professionals is trained to tackle a wide range of exterior house cleaning requirements. We adapt our cleaning methods based on the material and condition of your home's exterior, ensuring an effective yet gentle clean. So, whether it's your vinyl siding that needs refreshing or your brickwork that needs a gentle scrub, our house washing service has you covered.
Living in Langley Township means cherishing the beauty of your home amidst the picturesque Canadian landscape. At Lyonridge Property Services, we strive to help you maintain this beauty with our exterior house washing services. Our goal is to ensure that every home we service not only looks its best but also stands the test of time.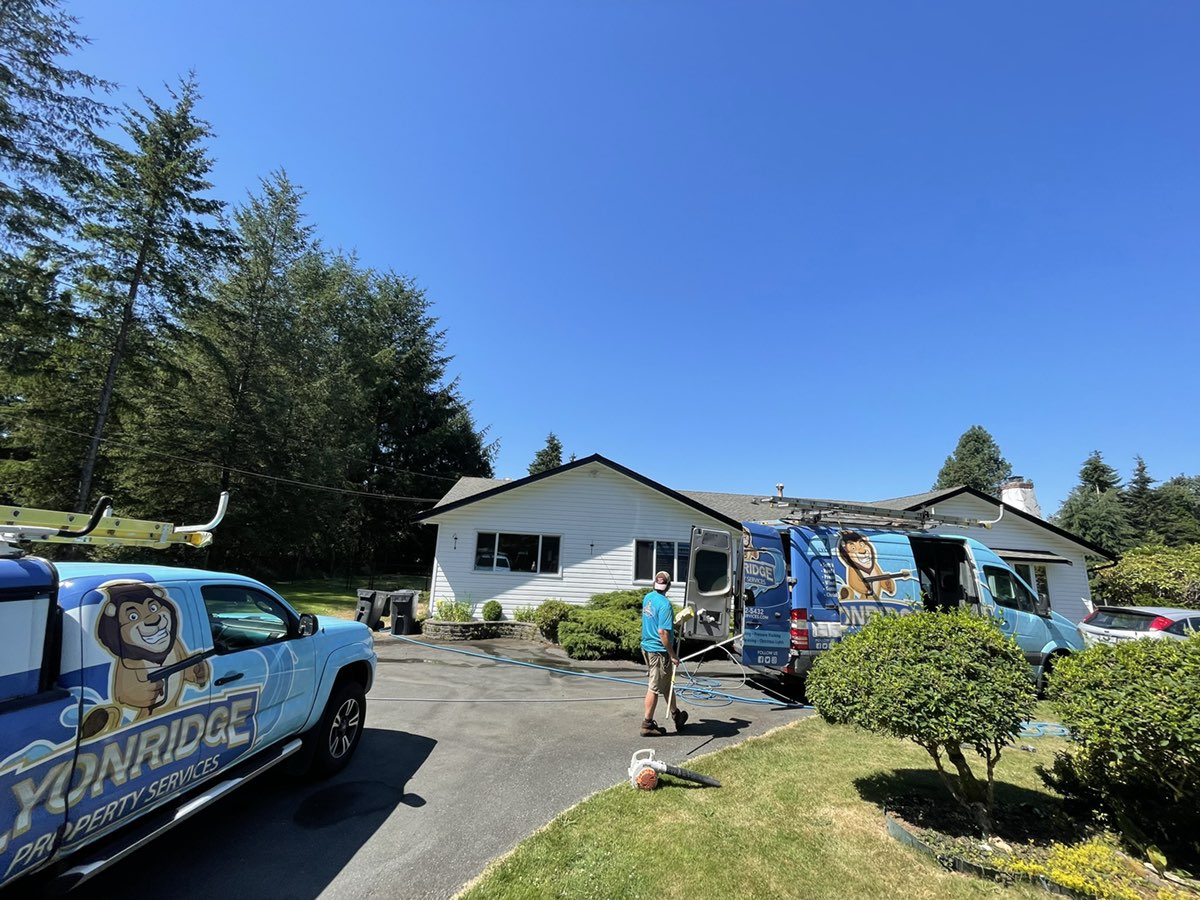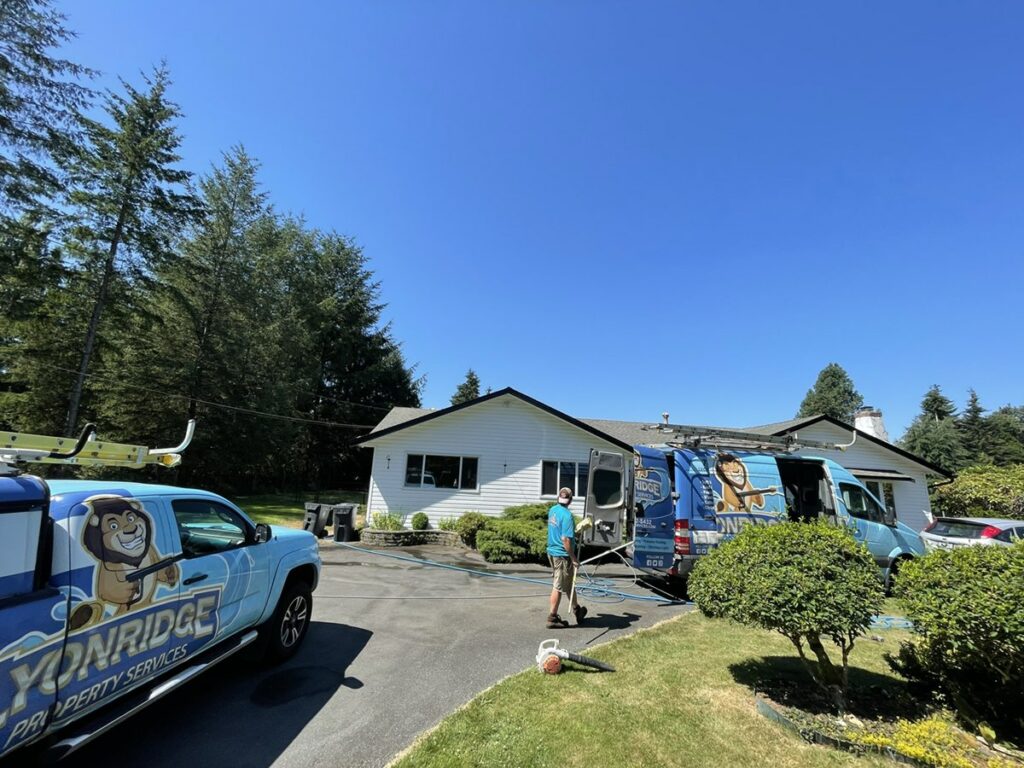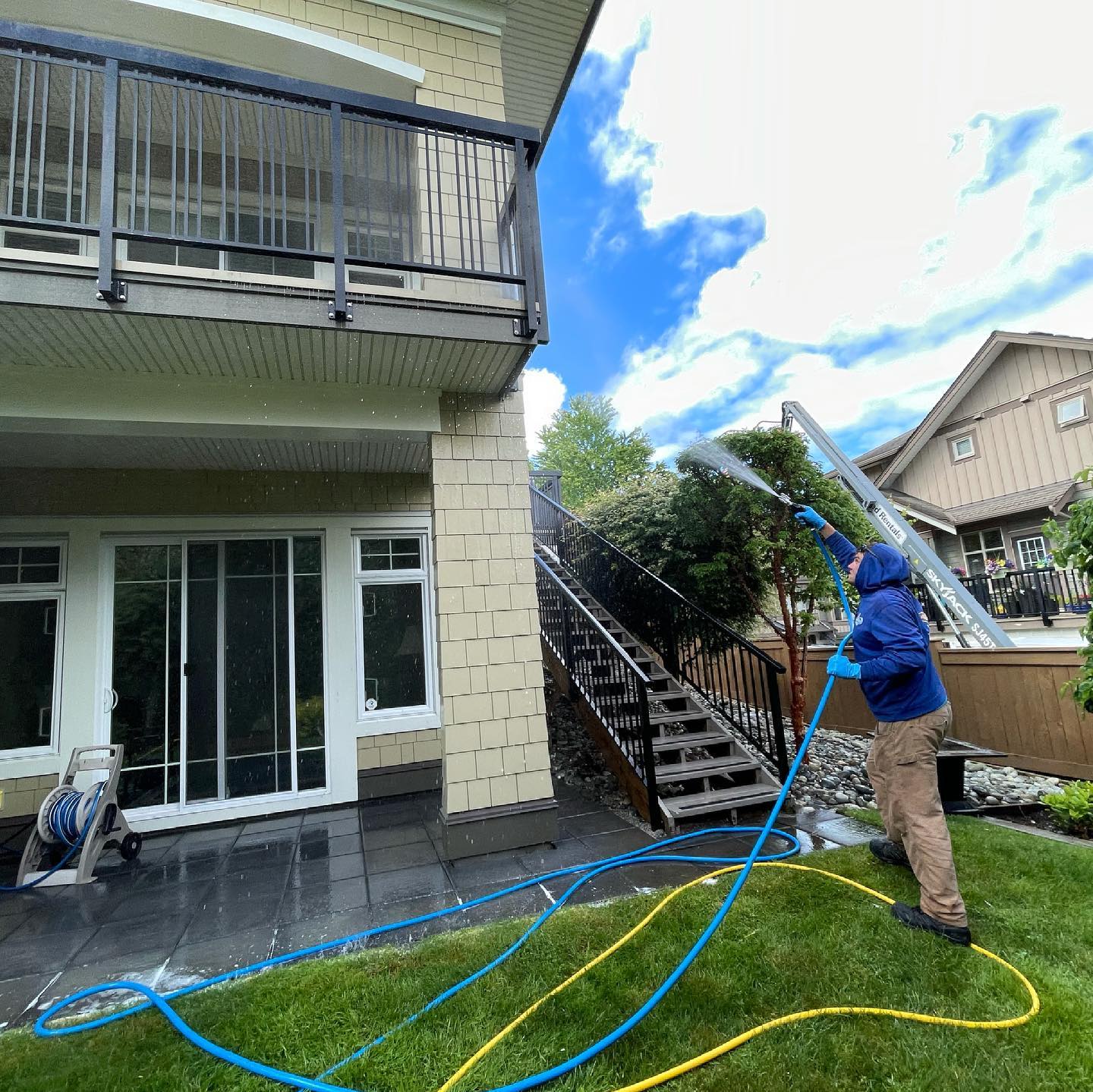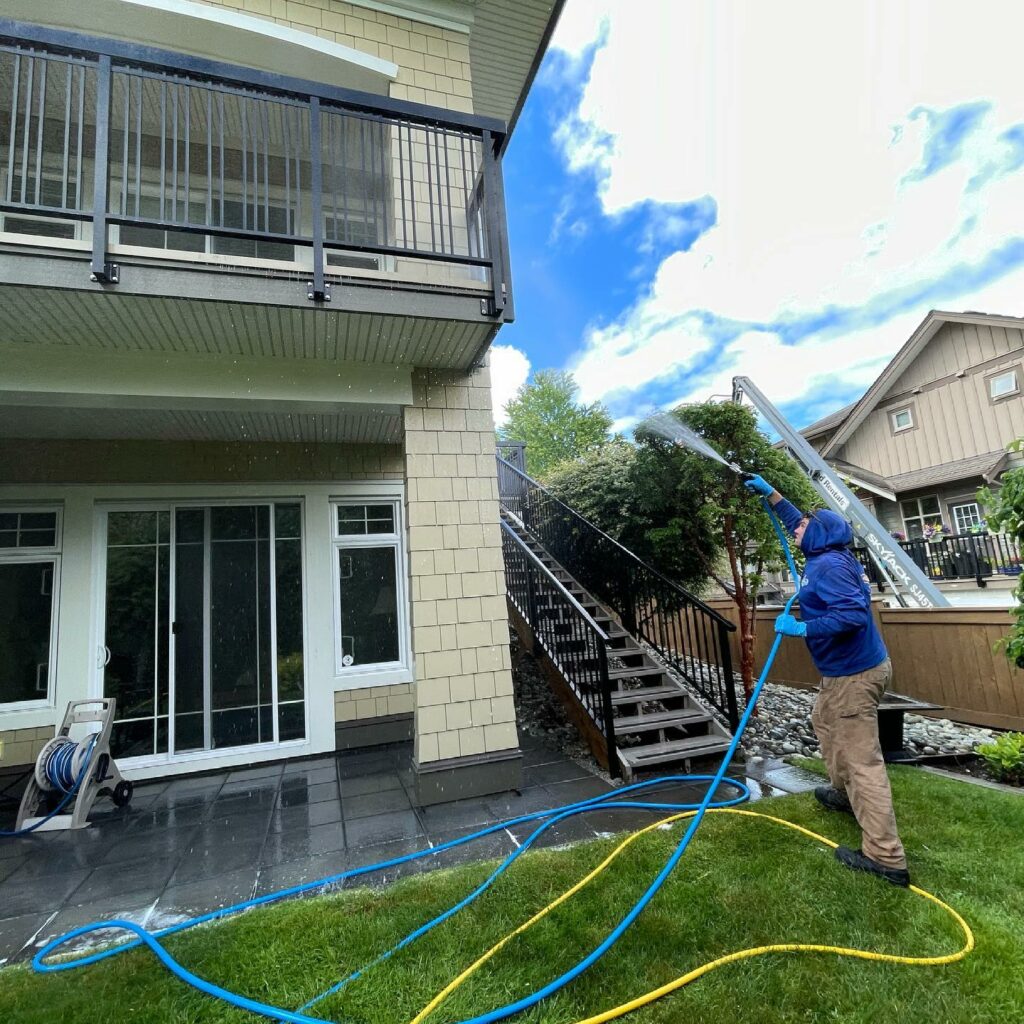 Keep Your Home Beautiful


with Expert House Washing Services!
So, if you're in Langley Township and you're searching for "house washing near me" or "exterior house wash," your search ends with Lyonridge Property Services. Get in touch with us today, and let's give your home the fresh, clean look it deserves. Remember, your home is a reflection of you. Let us help you make the best impression with our premier house washing services in Langley Township, BC. Experience the Lyonridge difference today!
Get in touch with our friendly staff to request a complimentary service quote, ask a question about any one of our top-notch exterior house washing services, or easily schedule an appointment. Take the stress out of house washing with Lyonridge Property Services!
Purchased our home 5 years ago and recently had the guys from Lyonridge "wash" the roof to remove a build up of debris. The difference is unbelievable! Had no idea our roof ever looked like this. Looks like a brand new roof!
Rich and Jordan delivered top quality customer service on the house washing. They went above and beyond of what was expected and I would highly recommend them to anyone else!
Austin W.
Facebook Review
Fantastic service! Rich cleaned the exterior of the house and made it look brand new, including the fence and sidewalks. Totally recommend.
Tanner P.
Nextdoor Review