Local. Family Owned. Trusted.
House Washing Maple Ridge BC
And the surrounding areas
Make Your Home as Beautiful as


Maple Ridge with Professional House Washing Services
At Lyonridge the customer always comes first. 
Maple Ridge is a desirable city located in British Columbia, Canada. It is known for its stunning natural beauty, vibrant community, and abundance of outdoor recreational opportunities. The city is nestled in the heart of the Fraser Valley and is surrounded by lush forests, sparkling lakes, and breathtaking mountain ranges. Residents of Maple Ridge enjoy a high quality of life, with access to excellent schools, healthcare, and amenities.
One of the many benefits of living in Maple Ridge is its strong sense of community. The city is home to a diverse population of friendly and welcoming people, who take pride in their community and are actively involved in local events and activities. There are numerous community events throughout the year, such as the annual Haney Farmers Market, the Maple Ridge Caribbean Festival, and the Winterfest Christmas Market.
While Maple Ridge is a beautiful place to live, the city's damp climate can cause mold, mildew, and algae to accumulate on the exterior surfaces of homes. This not only looks unsightly but can also be harmful to the health of those who live on the property. Professional house washing services can help residents of Maple Ridge to maintain the appearance and value of their homes, while also ensuring that their homes are safe and healthy to live in. By hiring a professional house washing service, residents of Maple Ridge can enjoy a thorough and effective cleaning of their property, without the risk of damage to the property or injury to themselves. Professional house washing services can also help to extend the life of exterior surfaces, preventing damage caused by dirt, grime, and other contaminants.
When it comes to house washing in Maple Ridge, don't settle for anyone less than the best! Contact Lyonridge Property Services for your soft-wash house washing needs today!
Exceptional


Exterior House Cleaning
Our house washing service is comprehensive, catering to various exterior surfaces of your home, from siding to stonework. We aim to give your home a sparkling makeover, enhancing its curb appeal and contributing positively to the overall beauty of Maple Ridge. We go above and beyond in providing a superior house washing experience that outshines our competition. Our expert house washing team understands that a truly restorative clean is more than just about the aesthetics of the property, it's also about safeguarding your home from potential damage caused by dirt, grime, algae, and molds.
The damage caused by these harmful organic materials can quickly snowball over time, leading to a hefty repair bill. Routine house washing services can help to mitigate this risk and keep your property looking, and feeling, its best for years to come!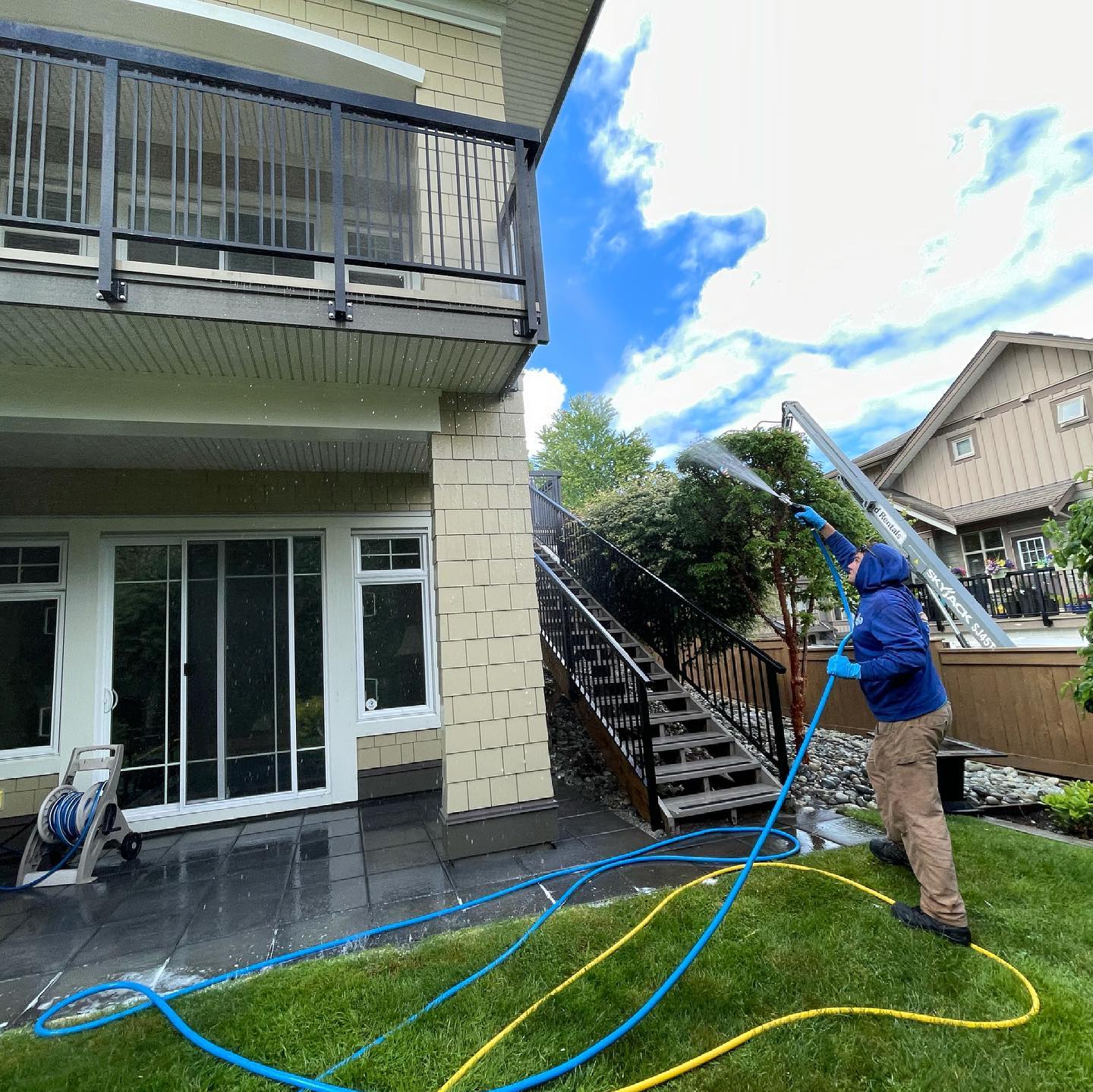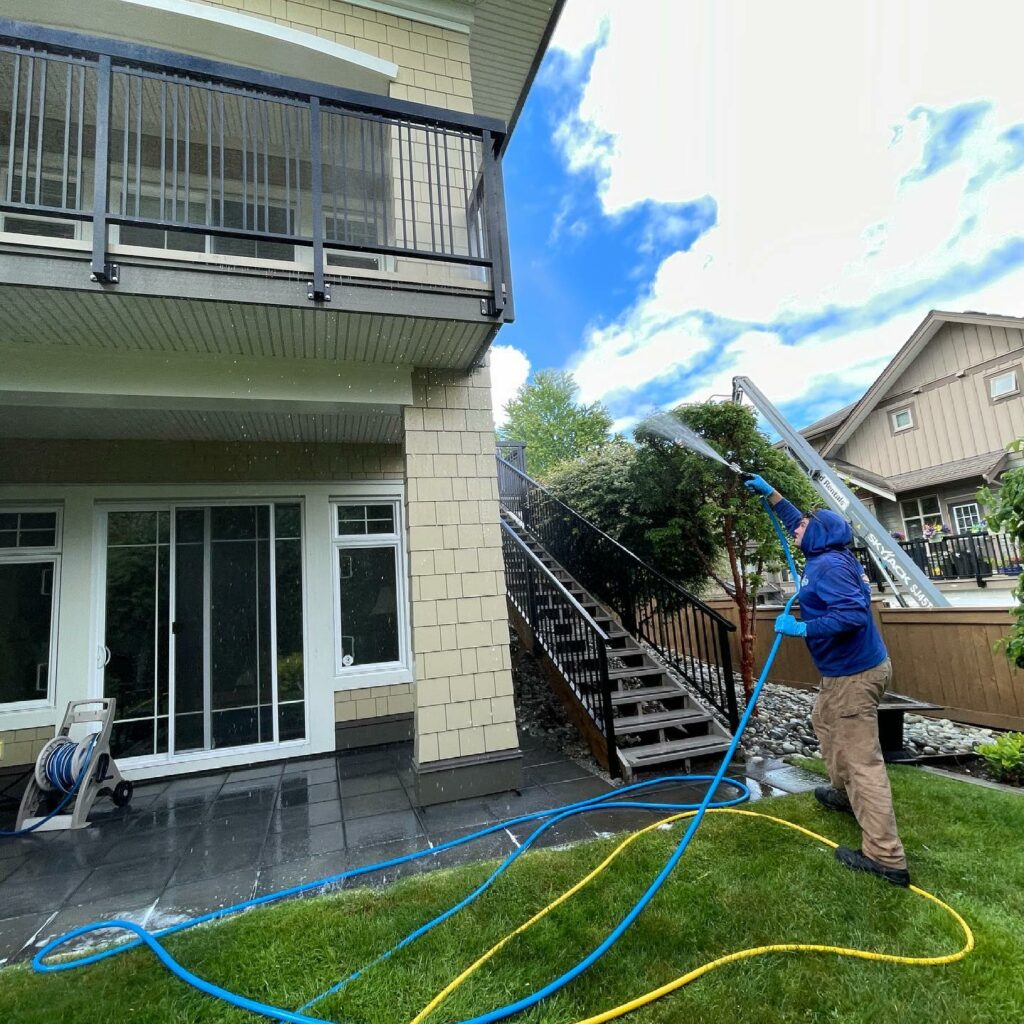 Call Us Today for a Free Quote!
We want to earn your business and turn you into a long-term customer. 
The Soft Washing


Difference
At Lyonridge Property Services, we pride ourselves on our tailored approach to house cleaning. One such approach is our soft washing in Maple Ridge, a service that prioritizes the care of your home while delivering exceptional cleaning results. Soft washing is a low-pressure cleaning process that, contrary to traditional pressure washing, does not risk damage to your home's delicate exterior surfaces. It's a gentle, yet incredibly effective, method of exterior house washing that's perfect for materials like stucco, wood, and older brickwork.
Our soft washing process begins with a thorough examination of your home's exterior. This assessment allows us to identify the materials involved and the extent of dirt or biological growth, such as algae or mold. Next, we prepare a biodegradable cleaning solution, customized based on the assessment. This solution is designed to effectively clean the exterior without harming the surrounding greenery or posing a risk to pets and humans. We then apply the cleaning solution using low-pressure pumps. The solution is given time to seep into the surface, breaking down the dirt, mold, and algae. This dwell time is critical and depends on the type of surface and the level of dirt or biological growth.
Finally, we rinse off the cleaning solution using a soft wash system, which employs low-pressure water to avoid any damage to the surface. The result? A brilliantly clean exterior that looks as good as new!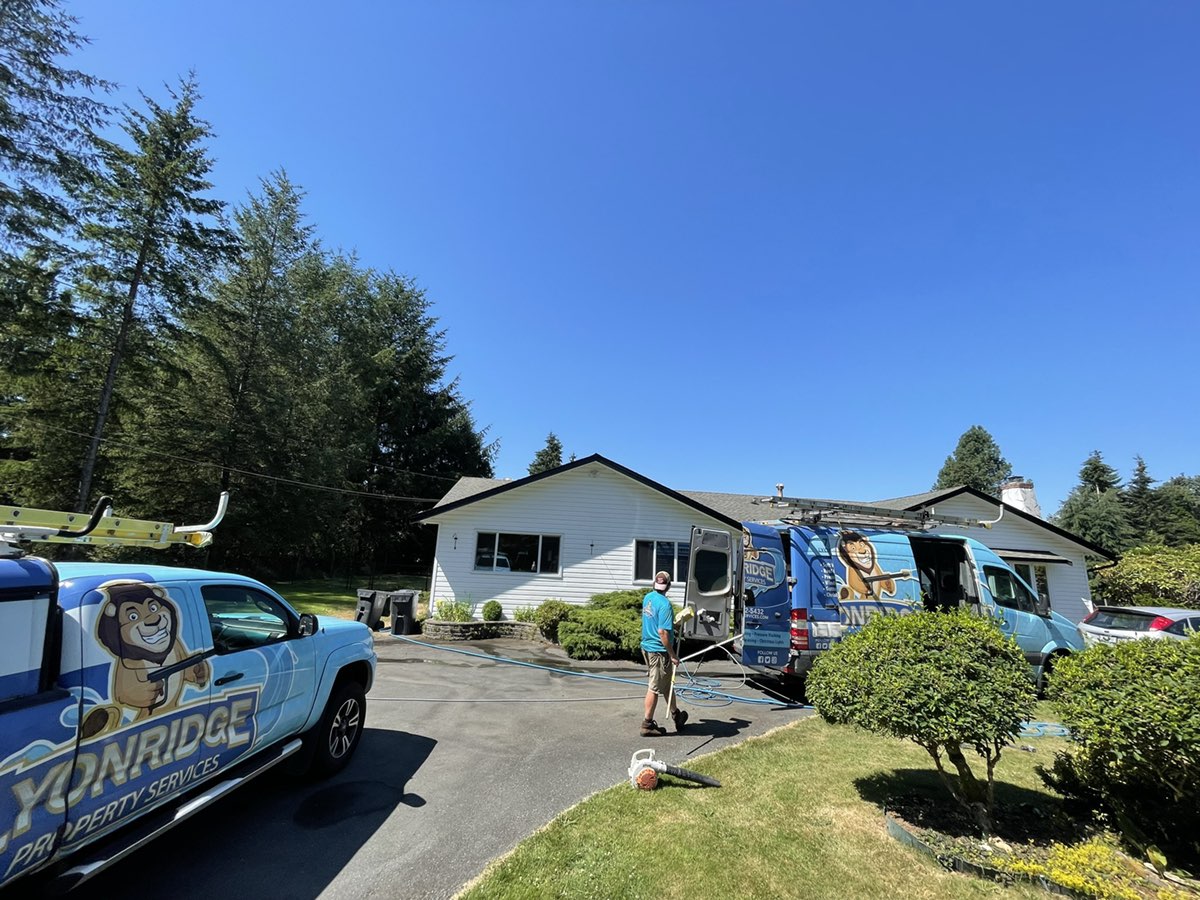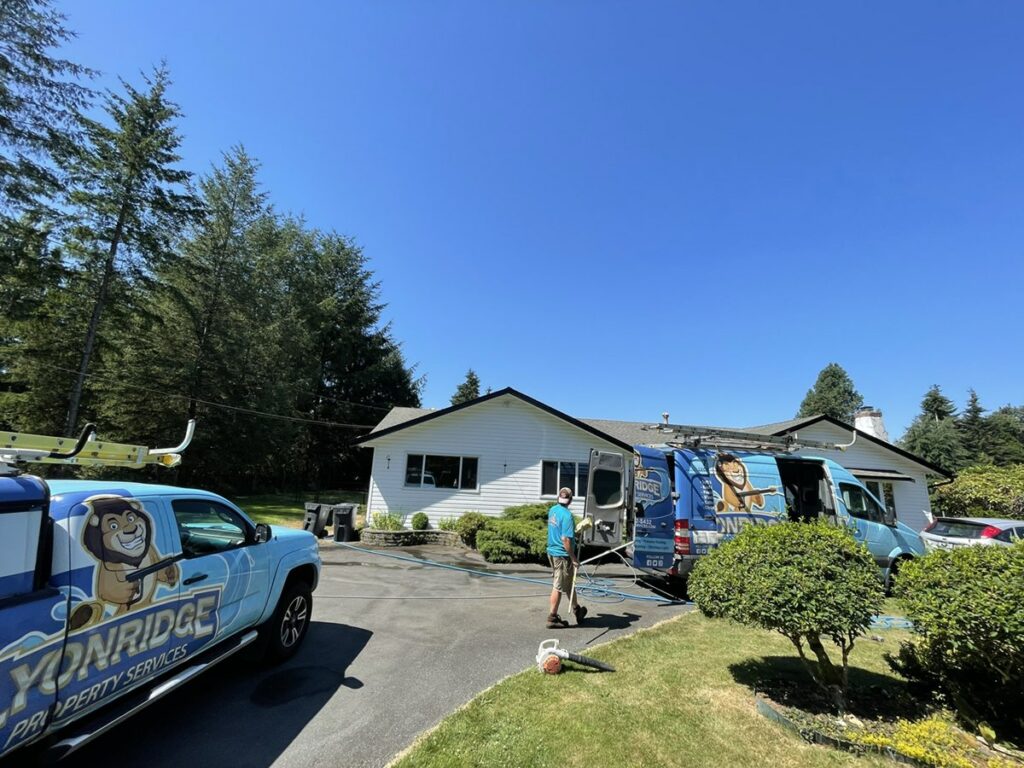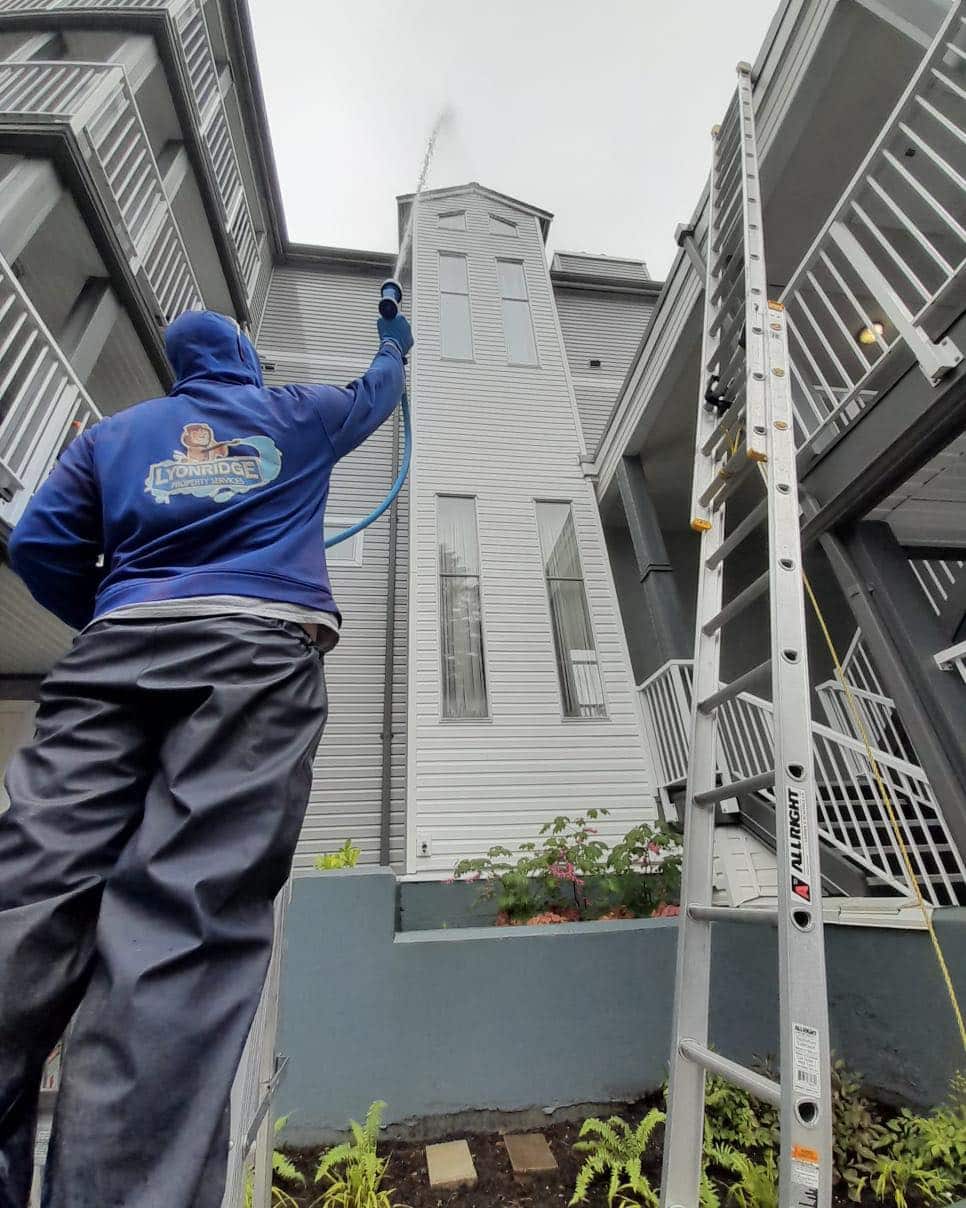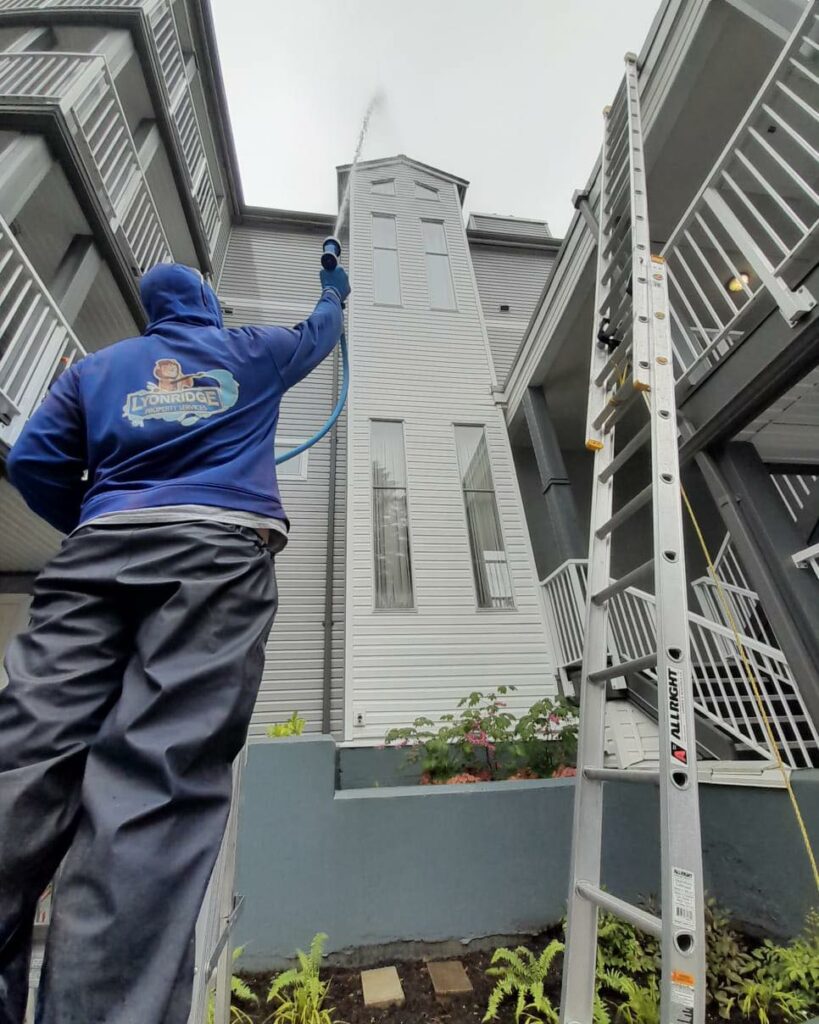 Lyonridge Property Services


is Your Trusted Exterior House Cleaning Partner
As a local company, Lyonridge Property Services understands the unique cleaning needs of Maple Ridge homeowners. Our commitment to quality, coupled with our understanding of local architecture and climate, makes us the ideal choice for your house washing needs in Maple Ridge.
If you're searching for a house washing service that respects your home, delivers exceptional results, and cares for the community, your search ends here. Contact Lyonridge Property Services today and let's bring a new shine to your home with our tailored house washing services. Choose us for your house washing needs in Maple Ridge, BC, and experience the Lyonridge difference.
Purchased our home 5 years ago and recently had the guys from Lyonridge "wash" the roof to remove a build up of debris. The difference is unbelievable! Had no idea our roof ever looked like this. Looks like a brand new roof!
Rich and Jordan delivered top quality customer service on the house washing. They went above and beyond of what was expected and I would highly recommend them to anyone else!
Austin W.
Facebook Review
Fantastic service! Rich cleaned the exterior of the house and made it look brand new, including the fence and sidewalks. Totally recommend.
Tanner P.
Nextdoor Review