Local. Family Owned. Trusted.
Window Cleaning Vancouver BC
And the surrounding areas
Top-Rated


Window Cleaning In Vancouver, BC
At Lyonridge the customer always comes first. 
Lyonridge Property Services is a dependable, professional, and locally-owned window cleaning company in the Vancouver area. If you need a window cleaning company, we are the one to turn to. Our team will be able to clean your windows, carefully eliminate harsh materials that are sitting on your windows, and allow more sunshine to come through them. You can trust that we provide window cleaning Vancouver, BC locals count on. 
Looking For


Window Washing Near Me?
As a homeowner, you have a lot on your plate. You have to keep up with house chores, home projects, and DIY projects that you keep pushing to the side. The list of projects usually gets longer and longer by the minute, and it can be difficult to keep up with. It's not uncommon for some projects that need to be done routinely to get pushed aside so you can accomplish the more fun home projects. Cleaning windows is typically a chore that many homeowners dread doing, so it gets tossed to the side until their windows are filthy and are overdue to be cleaned. However, when you let materials like debris, grime, dust, dirt, bird droppings, etc., sit on your windows, they can become weaker over time. They can slowly eat away at the surface of your windows causing chips and cracks. More than likely, you'll need to replace your windows well below their lifespan. Routine cleanings are the best way to take action in protecting your windows from early deterioration. If you've been looking for a company to take over cleaning your windows for you or you've been searching online for Vancouver window cleaning near me, Lyonridge Property Services could be your answer. Our team has the skills, training, and experience needed, and we utilize the tools we've learned over the years with every job we do. We also only use the most innovative equipment and products on the market to provide you with top-notch results. We strive to exceed your expectations with every service, and you can trust that we provide the best window cleaning service in the area.
While homeowners can clean their own windows, we advise against it, especially if you have hard-to-reach windows. Getting on a ladder to clean your windows isn't worth it when it comes to putting yourself at risk of getting hurt. Not to mention most household products leave behind streaks and smudges no matter how much you scrub your windows. If you're looking for smooth, clean, and streak-free window cleaning services, our company is the one to call. We take the stress, hassle, and dangers out of cleaning your windows. We will clean your windows quickly, but effectively so we can get out of your hair on time for you to spend your free time doing something more fun. We will also ensure that we work carefully and safely around your home. Our team will treat your home and windows as if they were our own.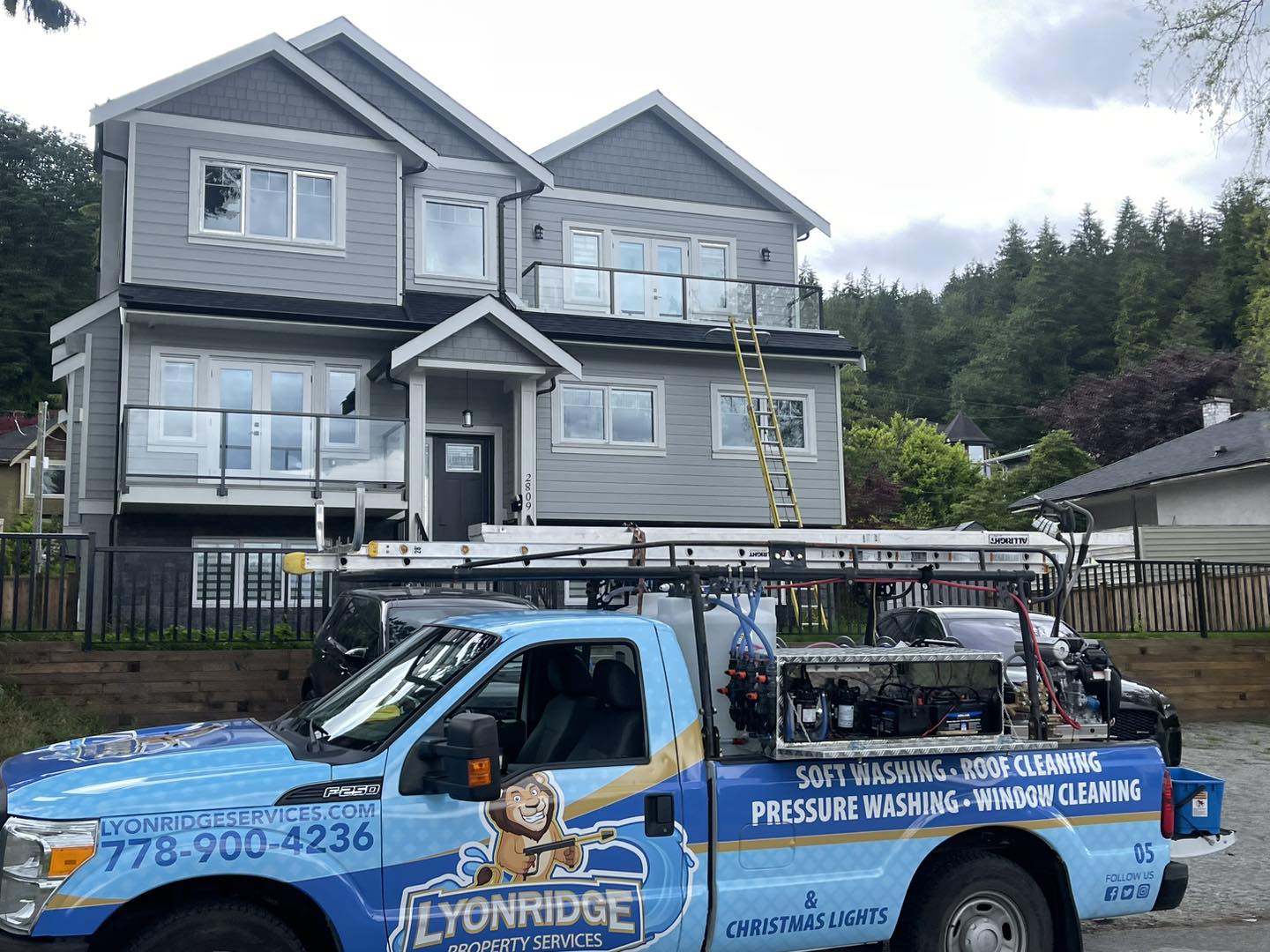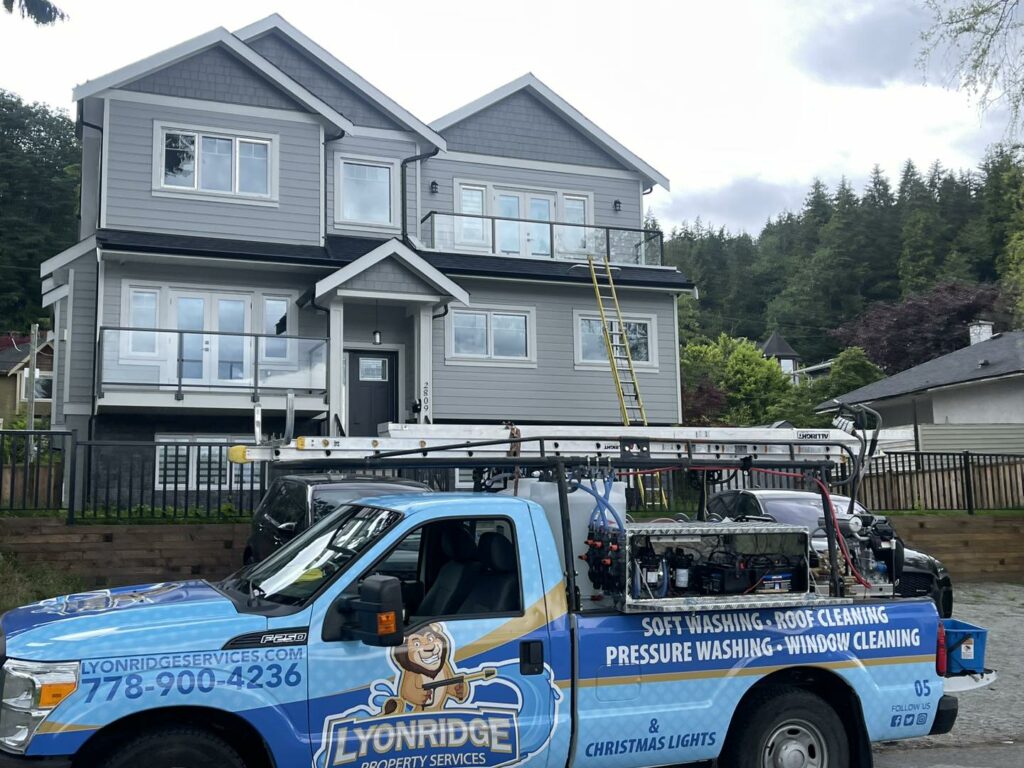 Call Us Today for a Free Quote!
We want to earn your business and turn you into a long-term customer. 
High-Quality


Exterior Window Cleaning
Have you started noticing scratches on your windows? While we can't reverse the scratches, we can slow down the progression with routine window cleanings. Dirt, hard water, dust, and post-construction debris can weaken your windows and make them less insulative. Scratches can become very damaging to your windows, not to mention they aren't aesthetically pleasing to look at. Dirty windows can also result in higher utility bills. This is because the harsh materials sitting on your windows can make it more challenging for the sun to enter your home, which means that your HVAC system will need to work extra hard to heat your home. Since the materials are covering your windows and shielding the sun, your home will seem a lot duller inside. Routine exterior window cleaning services will remove these materials from your windows, preventing early wear and tear, and also allowing the sun to fully penetrate your windows. With our services, you'll have clean and sparkly windows, and a house full of sunshine without any harsh materials blocking it.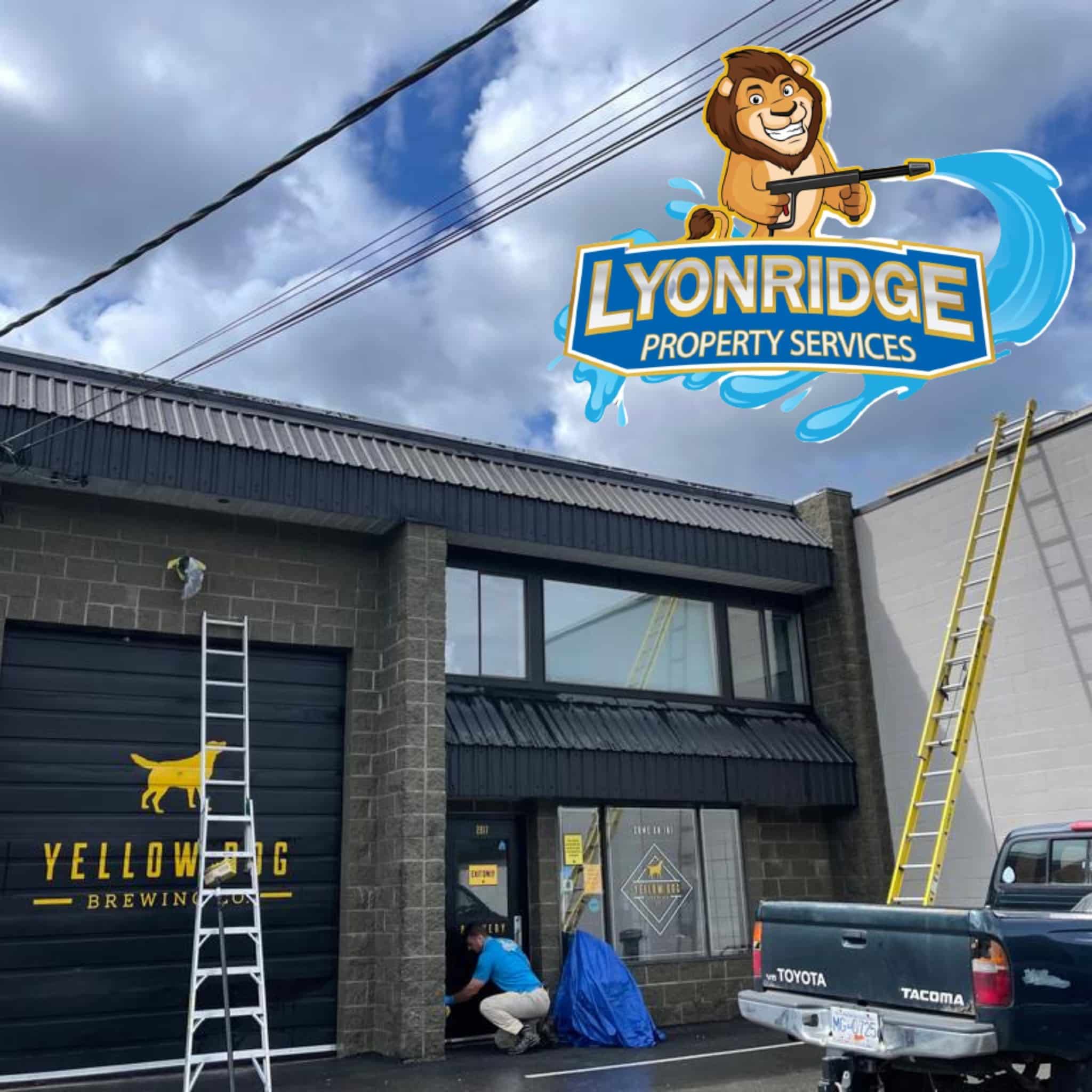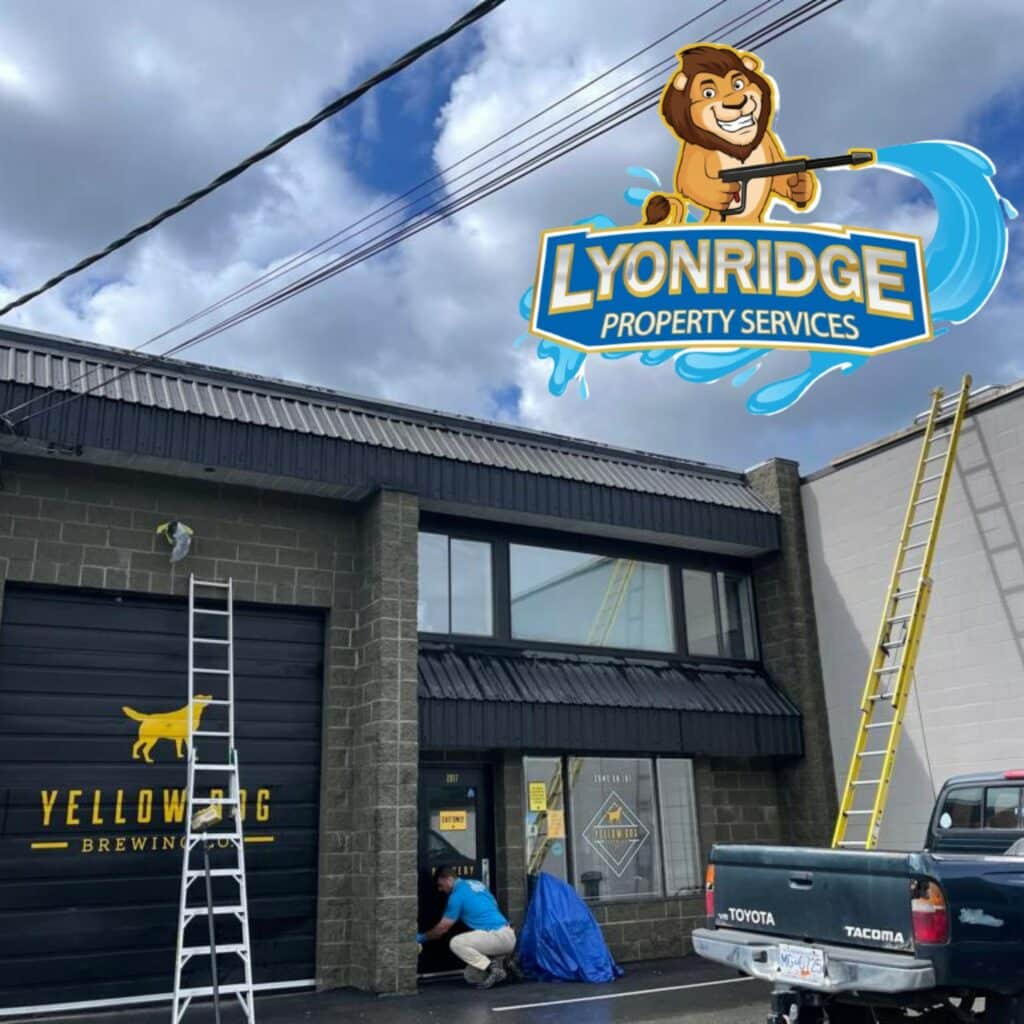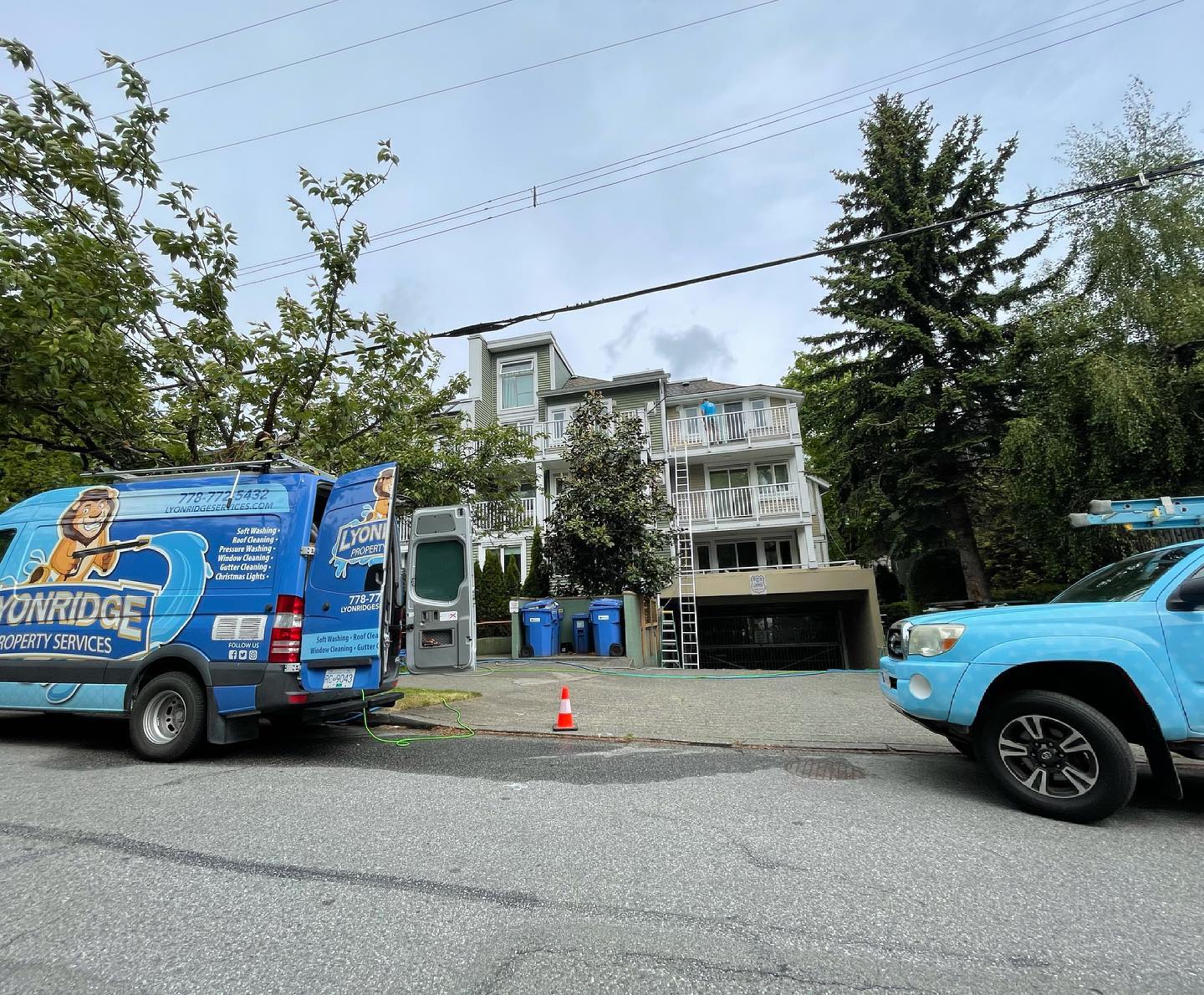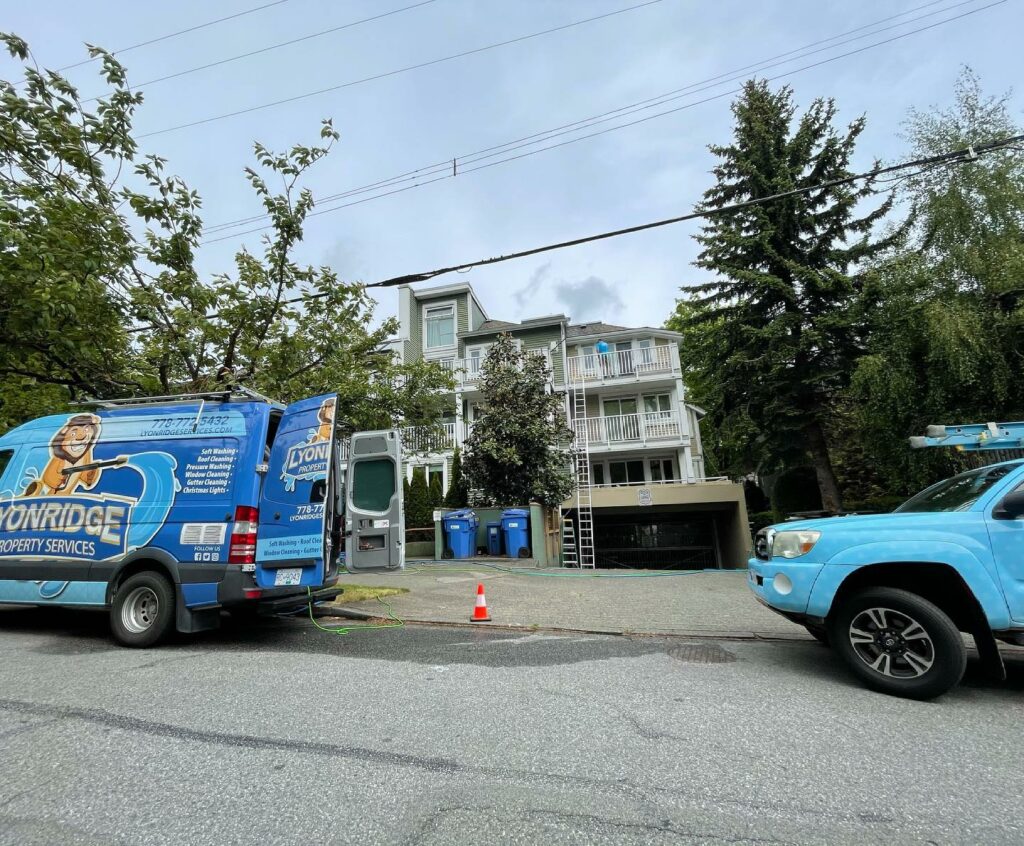 Contact Us


For Window Washing Vancouver, BC Locals Swear By
Have you been on the hunt for window washing near me? Look no further than Lyonridge Property Services. You can count on our team to provide you with high-quality services, top-notch results, and unmatched customer service. You can trust that we provide the best window washing Vancouver, BC residents trust. We make sure that this process goes smoothly for you by offering straightforward services. All you need to do is schedule a free and hassle-free quote from us, schedule your window cleaning service, and then we will take over from there. For more information about our window cleaning services, make sure you contact our team today!
Purchased our home 5 years ago and recently had the guys from Lyonridge "wash" the roof to remove a build up of debris. The difference is unbelievable! Had no idea our roof ever looked like this. Looks like a brand new roof!
Rich and Jordan delivered top quality customer service on the house washing. They went above and beyond of what was expected and I would highly recommend them to anyone else!
Austin W.
Facebook Review
Fantastic service! Rich cleaned the exterior of the house and made it look brand new, including the fence and sidewalks. Totally recommend.
Tanner P.
Nextdoor Review