Local. Family Owned. Trusted.
Commercial Pressure Washing Vancouver BC
And the surrounding areas
Highly-Rated


Commercial Pressure Washing Service
At Lyonridge the customer always comes first. 
When it comes to business, your image is everything. Having a professional, tidy, and inviting business is essential. If the exterior surfaces of your business are dirty, it could deter customers from wanting to do business with you. With the appearance of your building and property, you must put your best foot forward to impress your customers to want to come back. One way that you can vastly improve the appearance of the outside of your business and property is by pressure washing them. The best company to have on your side for a high-quality and professional commercial pressure washing service is Lyonridge Property Services.
Top Commercial


Pressure Cleaning Company In The Area
Lyonridge Property Services is a dependable company that specializes in commercial pressure cleaning. Our team uses only the best equipment and products when cleaning your property to ensure a safe, protected, and effective cleaning service. You will be surprised by what our pressure washing services will be able to do for the exterior surfaces of your commercial building and property. We will be able to carefully lift stubborn stains, remove graffiti, eliminate contaminants, and prevent damage from occurring.
While the benefits of pressure washing can't be overstated, you need a company on your side that knows what they are doing. Even though pressure washing is used to extend the lifespan of the exterior surfaces of your property and building, if the pressure washer were to be mishandled, it could cause severe damage to these surfaces. Some business owners choose to rent or buy a pressure washer to save money; however, it could just cause more problems and cost you more money in the long run, especially if you harm your building in the process. Due to the high-pressure force, it's not hard to break a window, puncture a hole through vinyl siding, chip soft brick, or injure yourself. We highly recommend that you hire a reputable company, like our team to pressure wash the exterior surfaces of your building or property. You can count on us to provide you with the best commercial pressure washing in Vancouver, BC.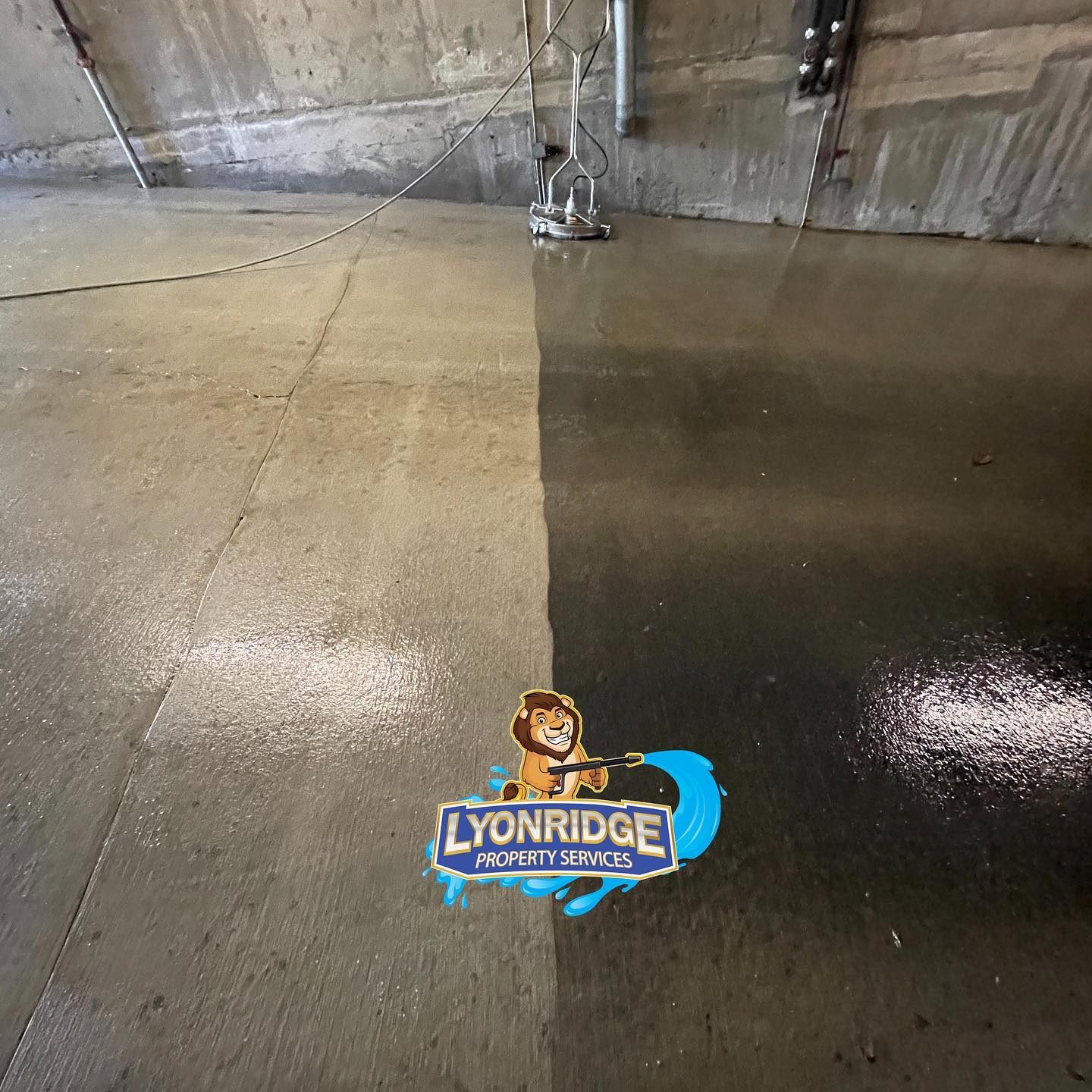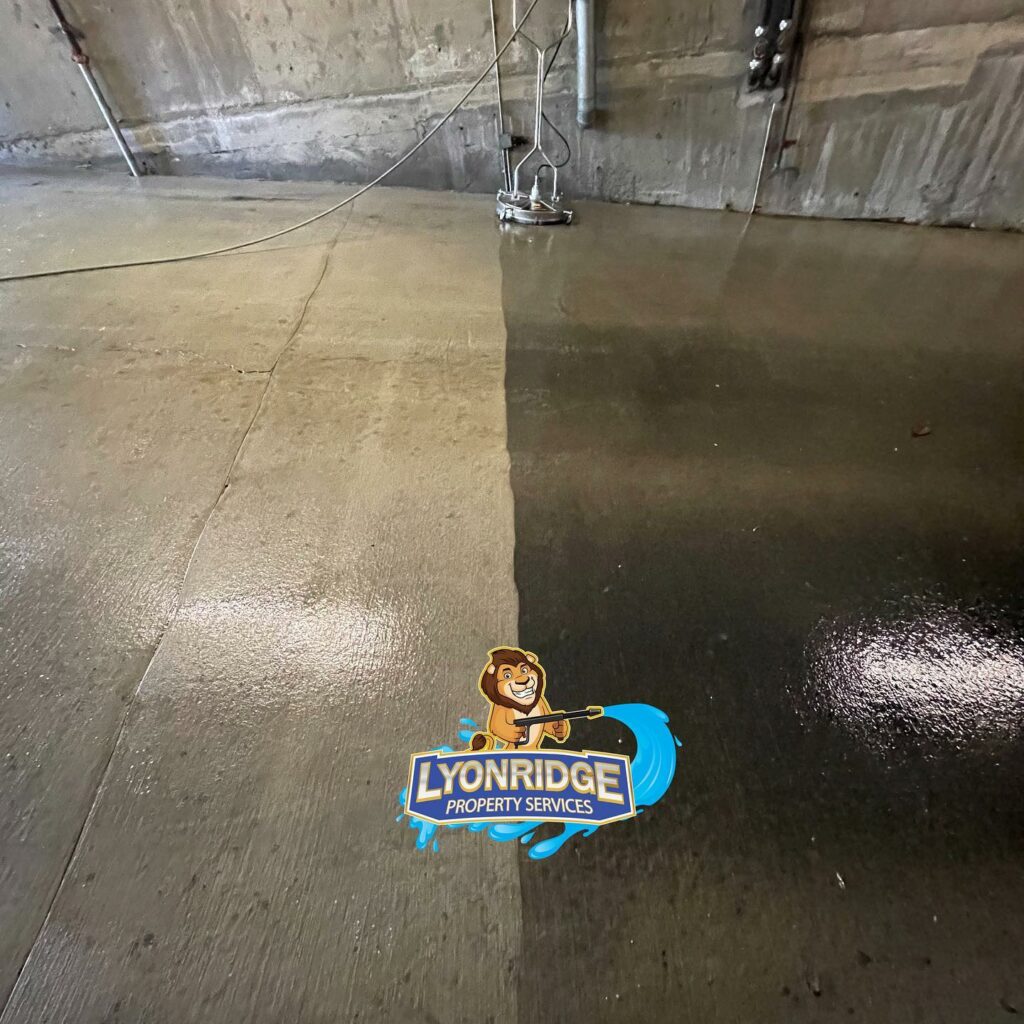 Call Us Today for a Free Quote!
We want to earn your business and turn you into a long-term customer. 
Why Your Business Will Benefit


From Commercial Pressure Washing In Vancouver, BC
Like most outdoor surfaces, your building and parking lot have to endure the build-up of stains, dirt, mud, moss, pollen, mold, bird droppings, mildew, algae, chewed gum, and more. These materials will sit on those surfaces and accumulate without routine cleanings. These materials will begin to eat away that the exterior surfaces of your building and property, which could lead to having to invest prematurely in repairing or replacing these surfaces. While routine pressure cleanings will have an upfront cost to maintain these surfaces, they won't even compare to the costs of having to repair or replace them. Maintaining these materials is quite simple with our commercial power washing service. Our services are affordable, convenient, and we will complete them promptly. We also offer a variety of different services, which include; soft washing, parking garage cleaning, gum removal, parking lot cleaning, walkway cleaning, dumpster pad and grease stain cleanup, commercial window cleaning in Vancouver, BC, and more! Whichever service you need, you can guarantee that we will have one that you need. We also guarantee that you will be 100% satisfied with the service, results, and customer service that we provide you.
There are several advantages of our commercial pressure washing services, such as:
Providing a healthier and safer work environment for your employees and customers

 – Moss, mold, dust, and mildew can cause health issues, especially for those who already deal with allergies, respiratory problems, or asthma. Our services will eliminate these contaminants and the risks that come with them.

Enhancing productivity for your employees

 – If your employees are tasked with cleaning the windows, they are missing out on valuable time that they could spend getting actual work done. Let us take this task over for you so your employees don't miss out on getting their work completed.

Improving the appearance of your business

 – First impressions are crucial and your business must look its best at all times. Routine pressure washing services will clean and maintain the look of your business so it consistently looks presentable.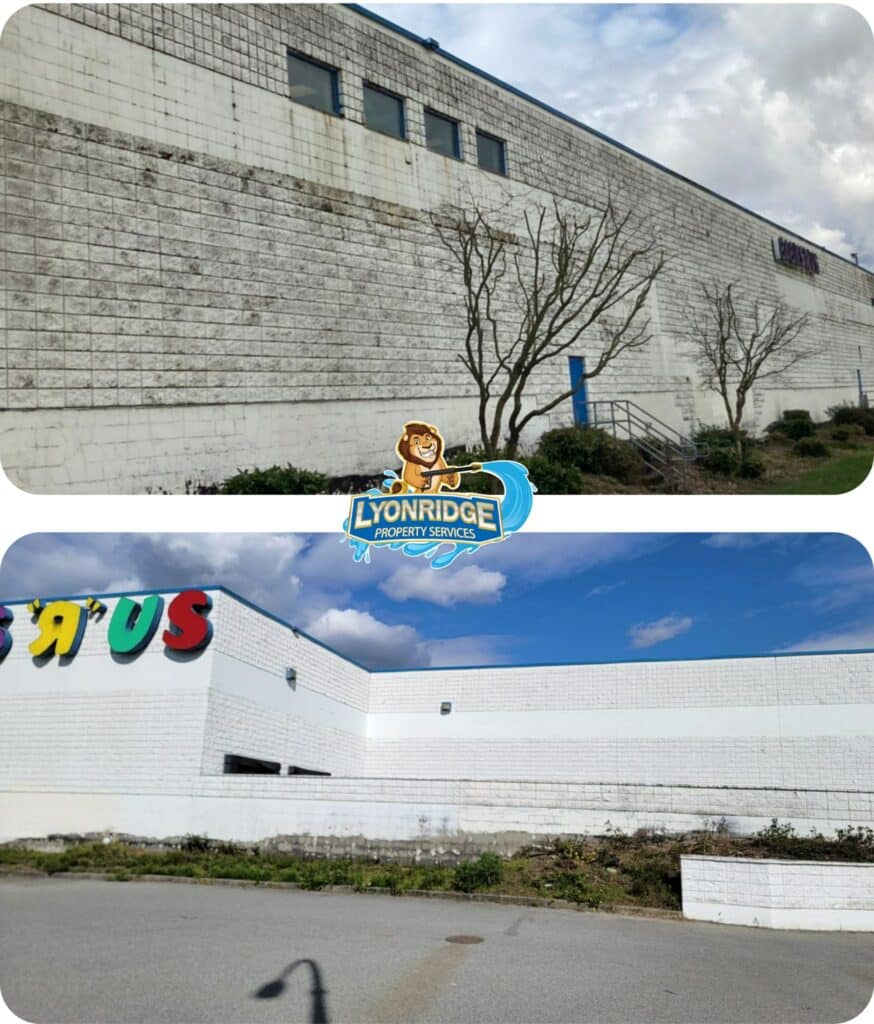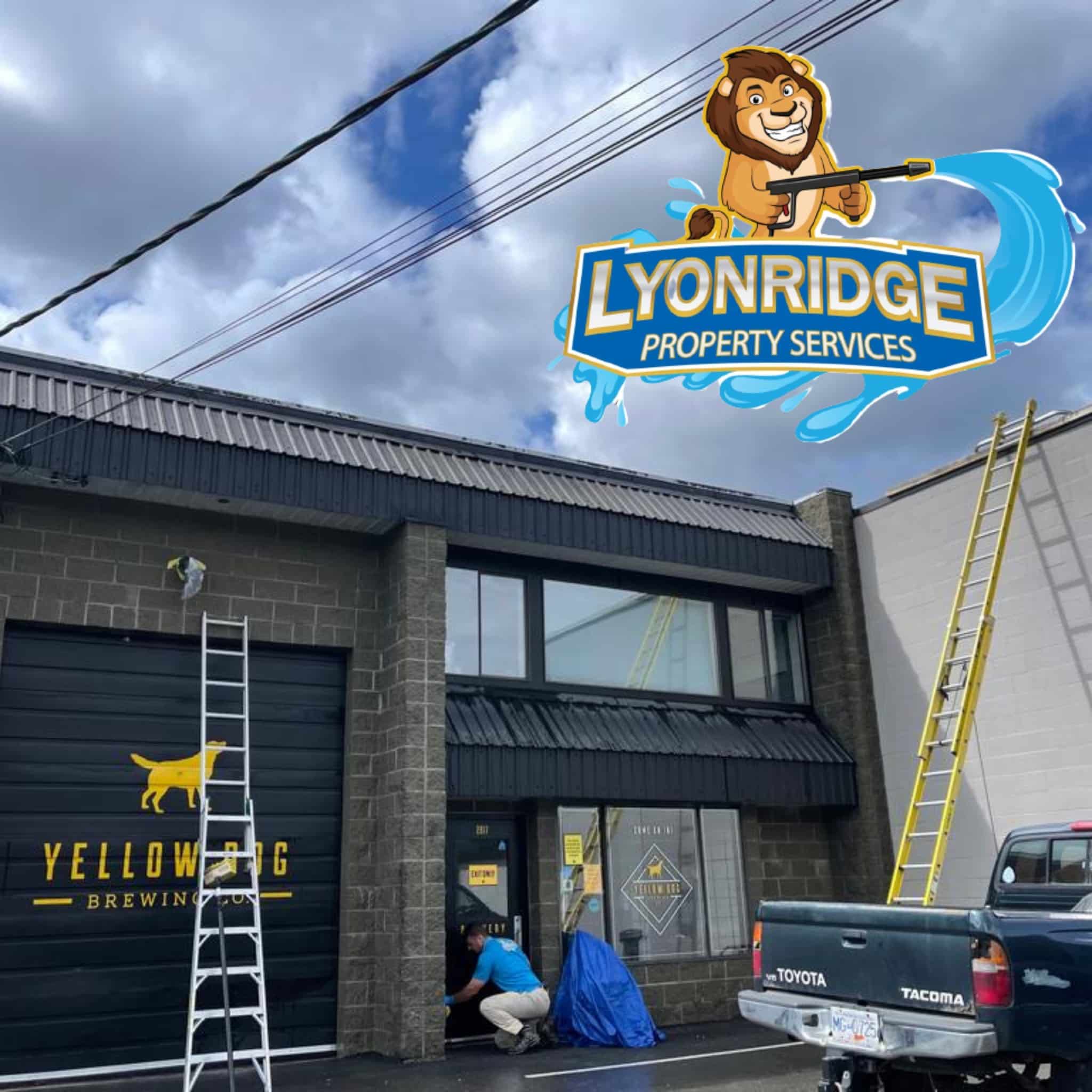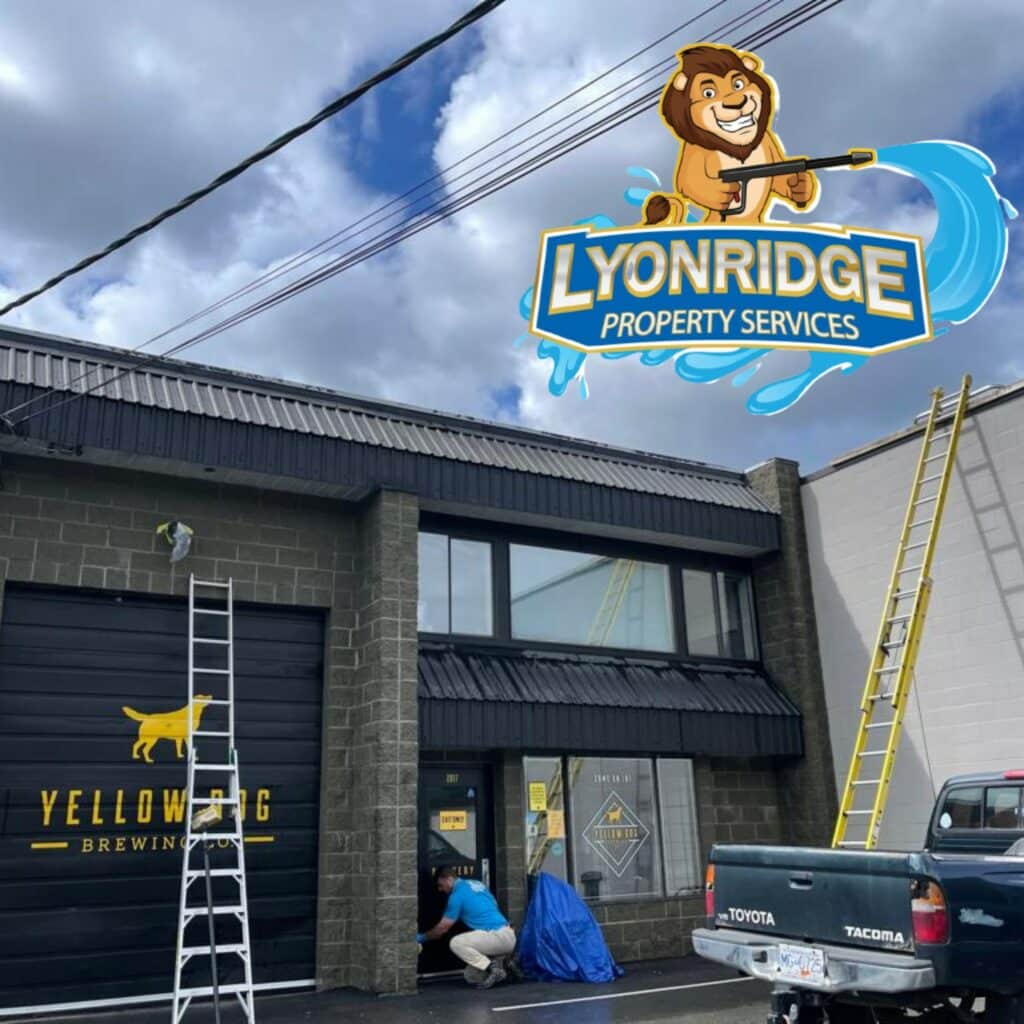 Call Us Today


For Commercial Power Washing In Vancouver, BC!
Have you been searching for commercial power washing in Vancouver, BC? Look no further than Lyonridge Property Services! We have what it takes to provide you with the best services and results every time. You can have peace of mind knowing that your business is in excellent hands with us. For more information regarding our commercial exterior washing services or a free quote, make sure you get in touch with our team today!
Purchased our home 5 years ago and recently had the guys from Lyonridge "wash" the roof to remove a build up of debris. The difference is unbelievable! Had no idea our roof ever looked like this. Looks like a brand new roof!
Rich and Jordan delivered top quality customer service on the house washing. They went above and beyond of what was expected and I would highly recommend them to anyone else!
Austin W.
Facebook Review
Fantastic service! Rich cleaned the exterior of the house and made it look brand new, including the fence and sidewalks. Totally recommend.
Tanner P.
Nextdoor Review