Local. Family Owned. Trusted.
Pressure Washing Richmond BC
And the surrounding areas
Searching For


Window Washing Near Me?
At Lyonridge the customer always comes first. 
Are you looking for Richmond window cleaning near me? At Lyonridge Property Services, we make it simple to have well-maintained, clean, and attractive windows. Cleaning your own windows can be time-consuming, stressful, and frustrating, but we take the hassle out of this project by doing it for you. Our window cleaning service is affordable, convenient, and fast, which makes it almost too good to pass up. We do the hard work so you don't have to!
Quality


Window Washing Richmond, BC Residents Rely On
When you're inside your home, windows are the only way to get a view of the outside world. Have you ever looked out of your window to see a bird or the sunset, and all you can focus on is the fingerprints or dirt on your window? That can be distracting, stand out, and sometimes it can be embarrassing if someone else points out how dirty your windows are. Your windows are subjected to dirt, fingerprints, dust, bird droppings, smudges, grime, etc. Without routine cleanings, these materials can scratch up your windows, cause them to weaken, and cause cracks or chips. Not to mention, they can negatively affect the appearance of your windows, causing them to look filthy, dull, and aged. This can also bring down the overall appearance of your windows. Your landscaping, siding, and roof could look perfect, but if your windows are dirty, they can direct your attention toward them. You don't want the beauty of your home to be overshadowed by your filthy windows. With our window cleaning service, we will be able to effectively and carefully eliminate these materials and make your windows look as good as new. With the process we use, we will ensure that your windows are clean, bright, and streak-free. Our service can easily boost the curb appeal of your windows, save you time from cleaning them yourself, and extend the lifespan of your windows. You can trust that our team provides the best window washing Richmond, BC, has to offer.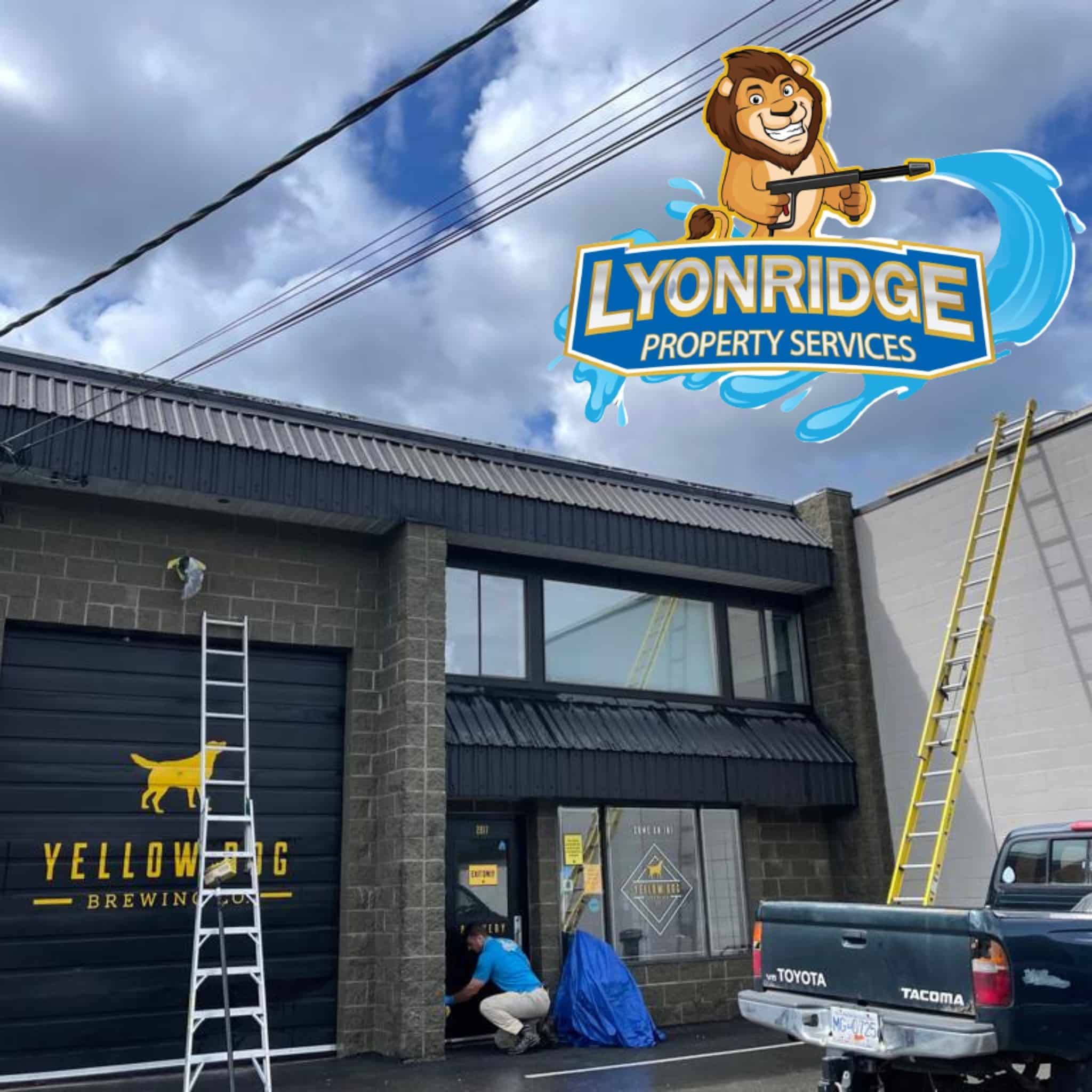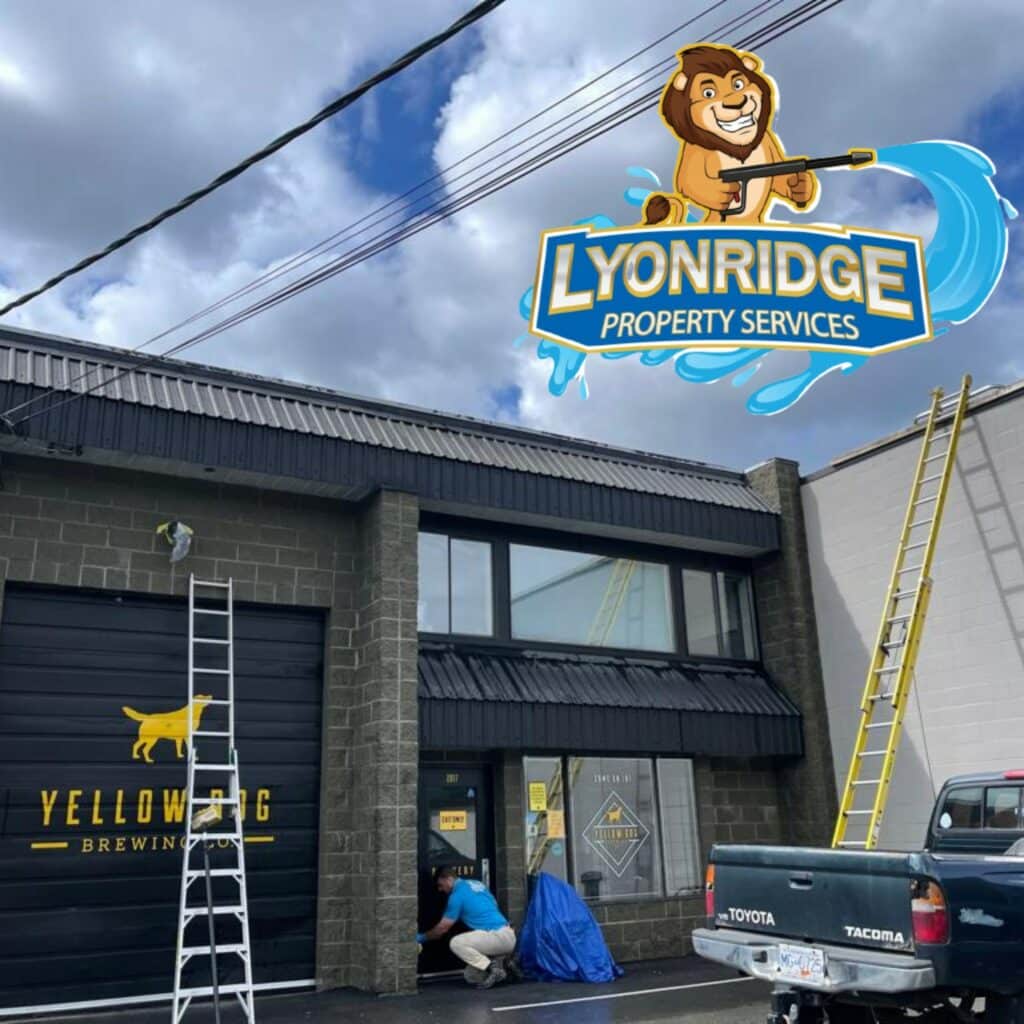 Call Us Today for a Free Quote!
We want to earn your business and turn you into a long-term customer. 
Why Choose Us


As Your Reliable Window Cleaning Company
While there are several window cleaning companies in the area, you must find the right one. Luckily, you don't have to look too far for a reliable, top-rated, and hardworking window cleaning company in the Richmond area. Our team prioritizes safety, high-quality results, and customer service. We aim to exceed your expectations with every job that we do, and we work diligently to provide you with streak-free results. You can trust that our team will do what they can to provide you with an overall positive experience when working with us. With us, you no longer need to look for window washing near me. We've got you covered!
One popular reason why homeowners often need our help cleaning their windows is after a construction project. When you have windows installed in your home post-construction, there's a lot of dust floating around. The dust can be quite abrasive, and once it settles, it can cause visible scratches to your brand-new windows. The last thing you want is for your windows to already suffer from wear and tear right after you have them installed. You can rely on our team to thoroughly and carefully clean up the dust laying around your windows to prevent damage. Our post-construction clean-up is the best way to get all of those wood shavings and drywall pieces out of your home and away from your windows. Another popular reason to have your windows cleaned is if you're putting your home on the market. You must put your best foot forward when trying to sell your home, and having your windows cleaned is one of the easiest ways to get your home ready. If your windows are dirty, they could stand out for the wrong reasons, and a potential buyer is going to look at every detail before they make the big purchase. Make sure that your windows look their best beforehand. Whether you need us for a one-time service or routine services, and regardless of why you need our exterior window cleaning service, we are here to help!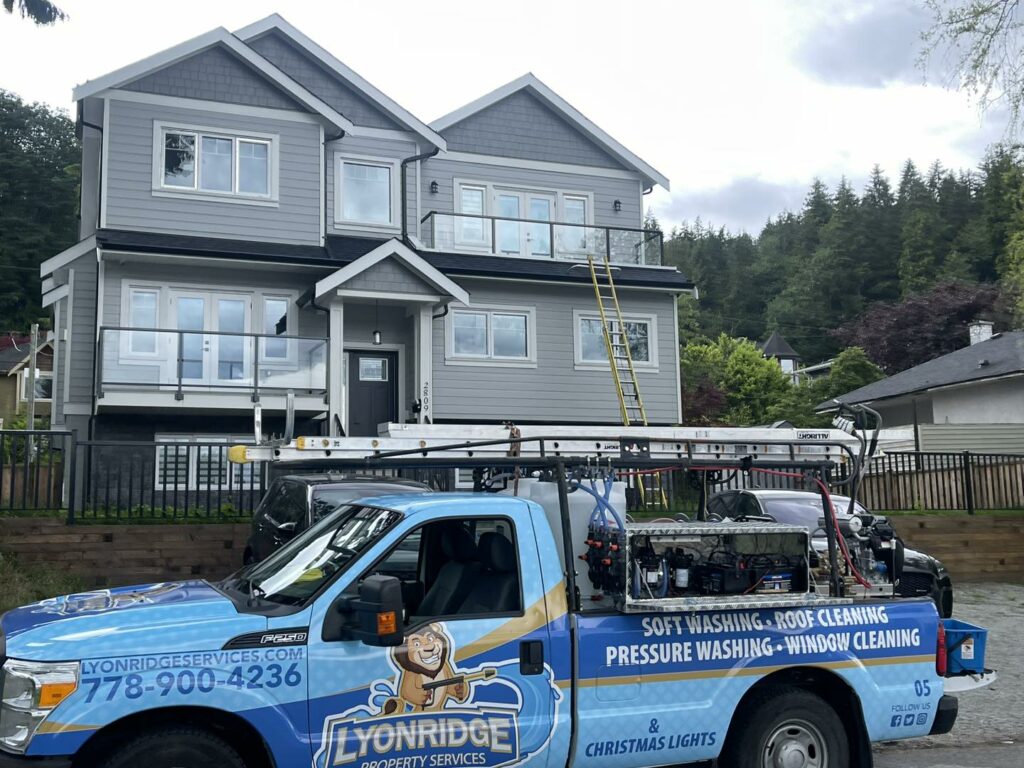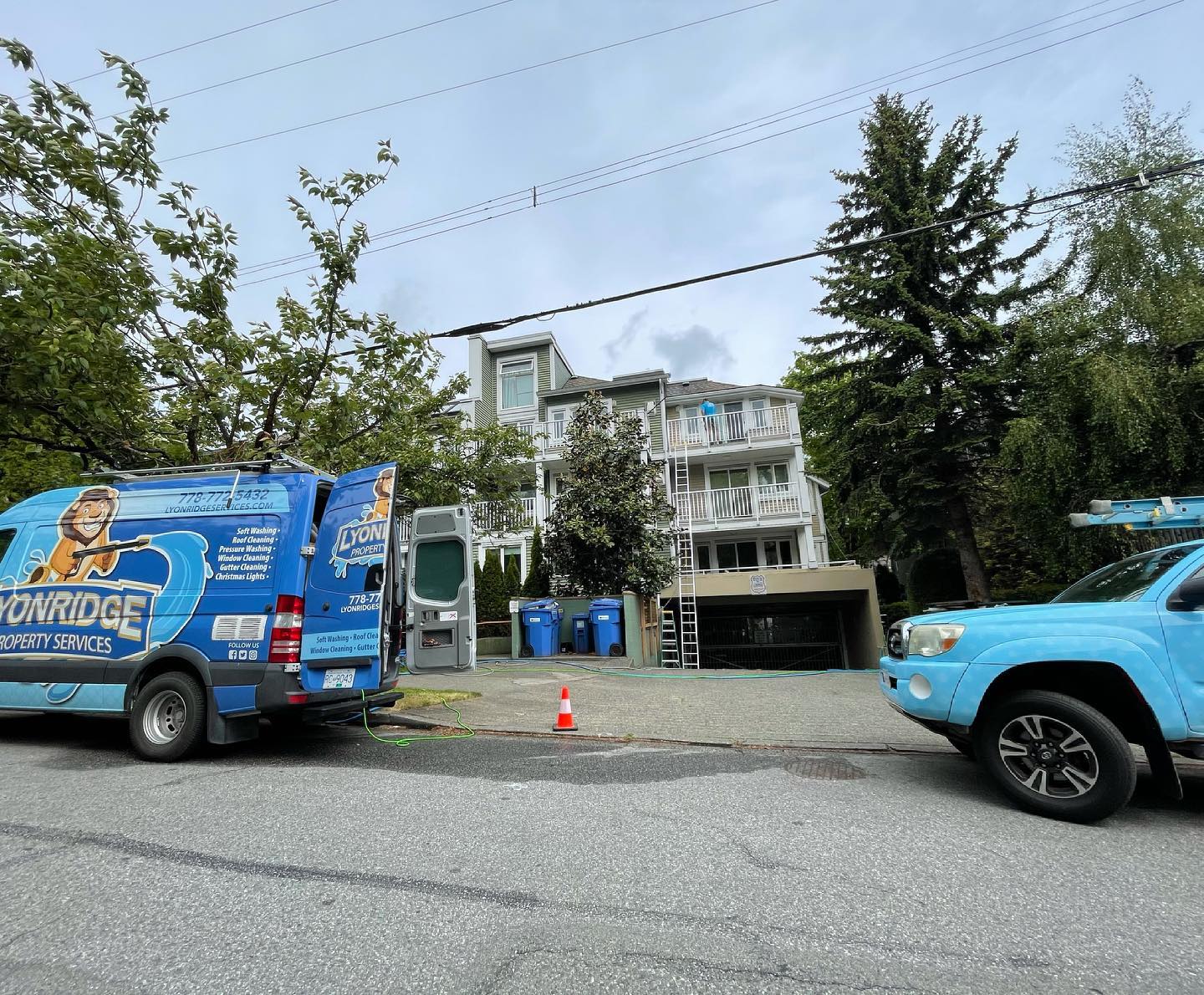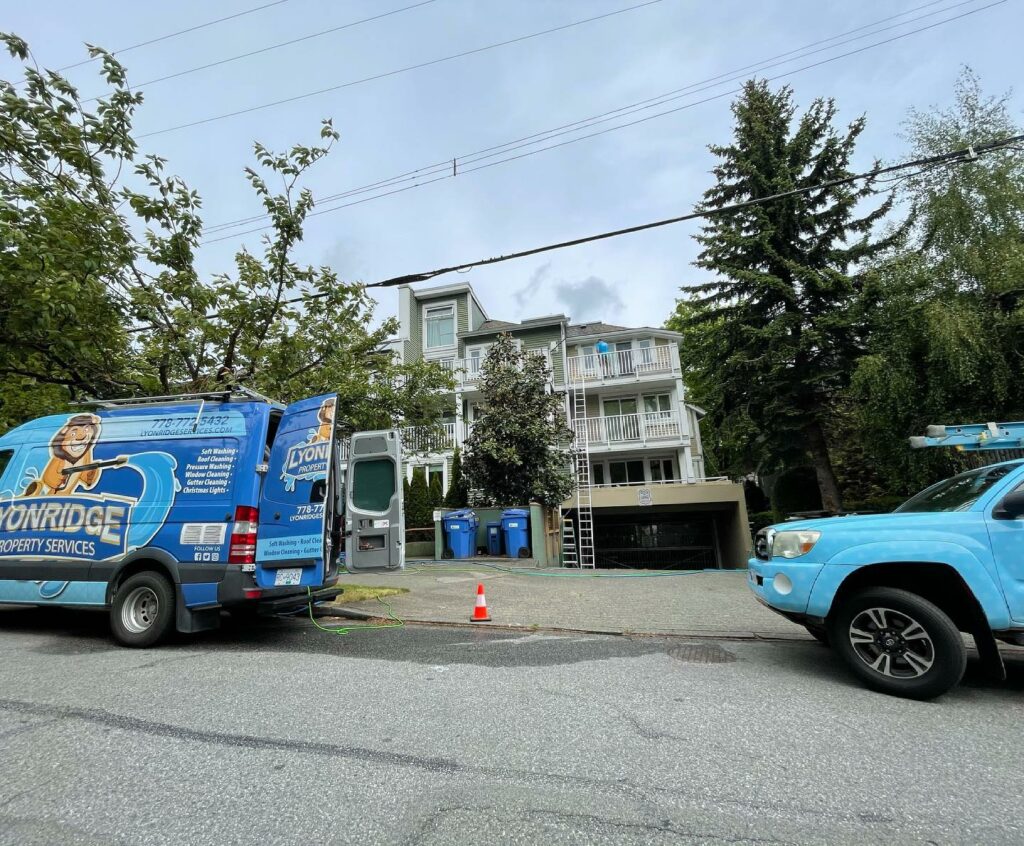 Call Us


For The Best Window Cleaning In Richmond, BC!
Are you looking for a way to get your windows clean without having to get on a ladder to clean them yourself? Using a ladder can be dangerous, which is why we recommend that you leave cleaning your windows to a professional company like Lyonridge Property Services. We will ensure that your service is professional, safe, and done promptly. We will also make sure that this process goes smoothly and stress-free for you. To learn more about window cleaning in Richmond, BC, make sure you reach out to our team today!
Purchased our home 5 years ago and recently had the guys from Lyonridge "wash" the roof to remove a build up of debris. The difference is unbelievable! Had no idea our roof ever looked like this. Looks like a brand new roof!
Rich and Jordan delivered top quality customer service on the house washing. They went above and beyond of what was expected and I would highly recommend them to anyone else!
Austin W.
Facebook Review
Fantastic service! Rich cleaned the exterior of the house and made it look brand new, including the fence and sidewalks. Totally recommend.
Tanner P.
Nextdoor Review
And the surrounding areas