Local. Family Owned. Trusted.
Roof Cleaning Langley Township BC
And the surrounding areas
Langley Township's


Leading Roof Cleaning Service
At Lyonridge the customer always comes first. 
Langley Township is a vibrant community located in British Columbia, Canada. The area is known for its scenic beauty, cultural diversity, and a strong sense of community. Langley Township has a high rate of homeownership, with many residents investing in their properties and taking pride in their homes. This is reflected in the well-maintained neighborhoods and beautiful homes throughout the area.
One of the most important aspects of home maintenance is roof cleaning. Langley Township's damp climate and frequent rainfall can cause dirt, debris, and algae to accumulate on the roofs of homes, leading to a range of issues. These include mold and mildew growth, damage to shingles, and even leaks.
Homeowners in Langley Township can benefit from professional roof cleaning services to maintain the appearance and functionality of their roofs. Professional roof cleaning services use specialized equipment and techniques to remove dirt, debris, and other contaminants from roofs, without causing damage to the shingles or other roofing materials.
Regular roof cleaning can help to extend the life of the roof, prevent damage caused by mold and mildew growth, and improve the overall appearance of the home. It can also save homeowners money in the long run by reducing the need for costly repairs or roof replacements. In addition to the functional benefits of roof cleaning, it can also help to improve the curb appeal and value of the home. A clean and well-maintained roof can make a significant difference in the appearance of the home, making it more attractive to potential buyers if the homeowner decides to sell in the future. Considering the Vancouver area is one of the hottest real estate markets in the world, a clean and attractive-looking home is a must-have!
Undertaking roof cleaning on your own is difficult and potentially even dangerous. Trust the professionals at Lyonridge Property Services for all of your professional roof cleaning needs!
Trusted


Roof Cleaning Professionals
As a leading roof cleaning company in Langley Township, BC, we at Lyonridge Property Services pride ourselves on a thorough and effective cleaning process. Here's a detailed look at how we bring your roof back to its best:
Assessment:

 Each roof cleaning project begins with a detailed assessment. Our experts examine the current condition of your roof, the extent and type of dirt or biological growth, and the roofing material. This allows us to create a customized cleaning plan for your roof.

Preparation:

 Once we've assessed your roof, we prepare for the cleaning process. This involves setting up necessary safety measures and preparing our eco-friendly cleaning solution, specially formulated to tackle the identified dirt and growth without harming your roof or the surrounding environment.

Application:

 We apply the cleaning solution to your roof using low-pressure pumps. This gentle approach ensures that the cleaning solution seeps into every crevice without causing any damage.

Cleaning:

 The cleaning solution is allowed to dwell on the roof surface for a suitable period. During this time, it breaks down the dirt, mold, and algae, making it easier to wash away.

Rinse:

 Finally, we rinse off the cleaning solution using a soft wash system. This system uses a low-pressure water flow to avoid any potential damage to your roof. The result is a brilliantly clean roof that not only looks great but also lasts longer.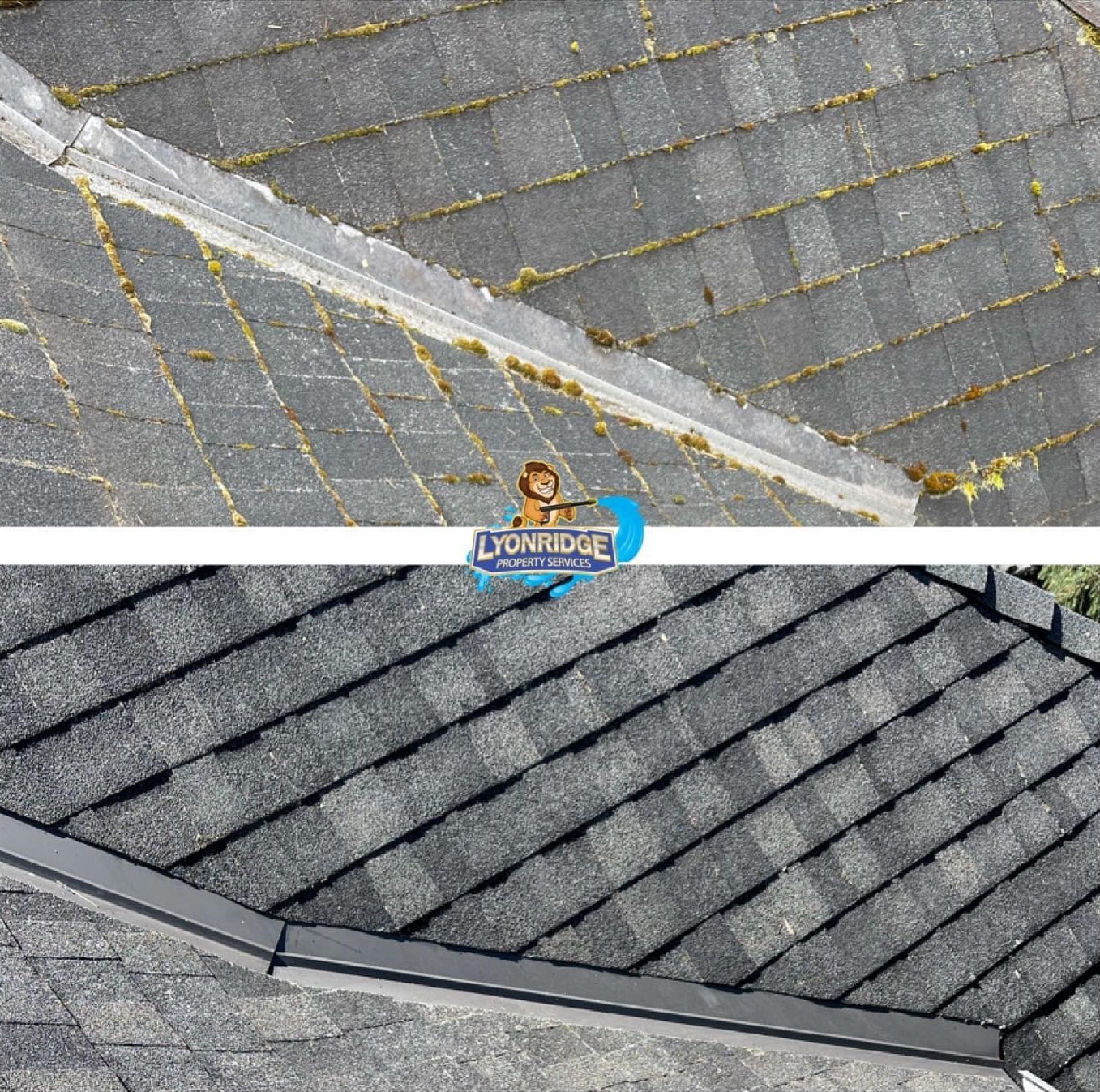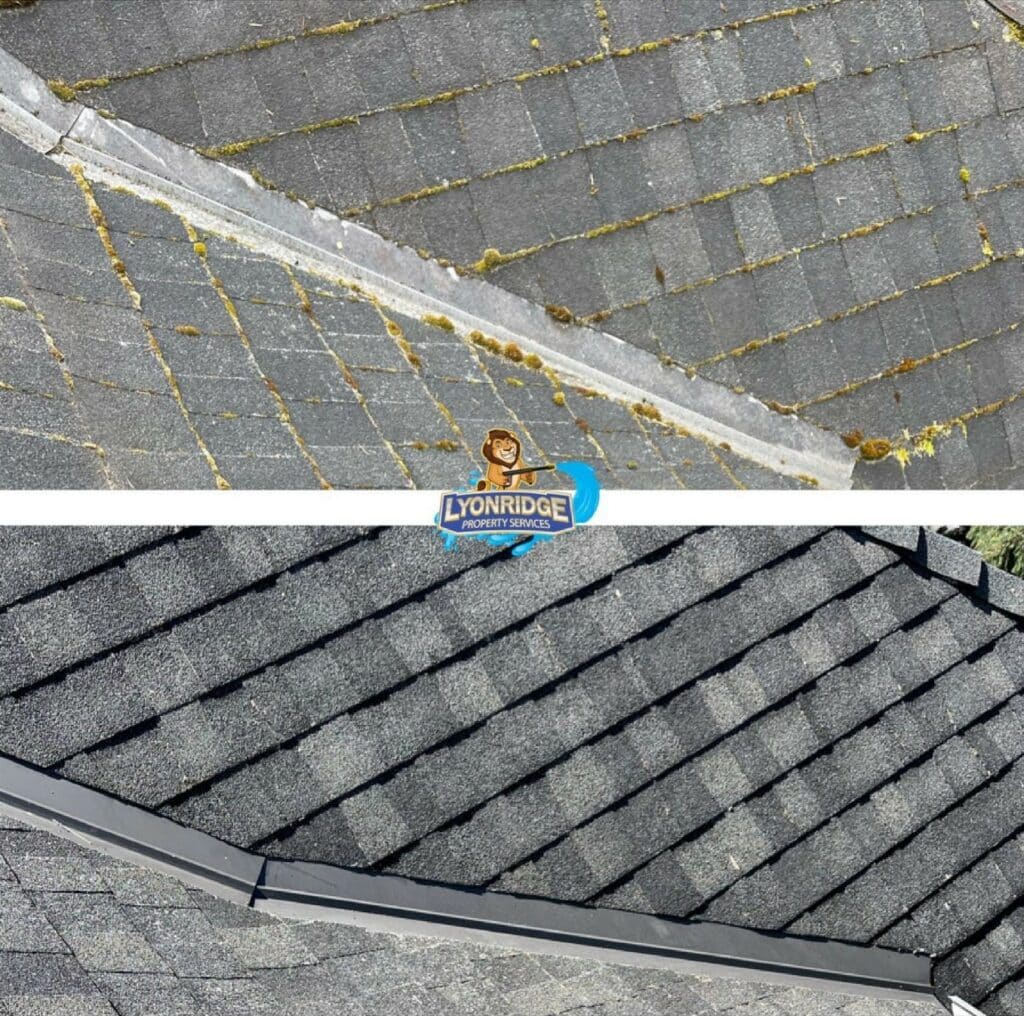 Call Us Today for a Free Quote!
We want to earn your business and turn you into a long-term customer. 
Your Search for


"Roof Cleaning Near Me" is Over!
When you choose Lyonridge for "roof washing near me," you're not just getting a cleaning service—you're getting a dedicated partner that understands your home's needs and works tirelessly to exceed your expectations.
As locals ourselves, we understand the unique challenges the Langley Township climate presents to homes here. That's why we tailor our cleaning solutions and techniques to effectively address these challenges without causing any harm to your roof or the environment. We respect the local ecology and ensure that all our cleaning solutions are eco-friendly and biodegradable.
Furthermore, we understand that every roof is unique, and therefore, every roof requires a customized cleaning approach. Our team is trained to handle a variety of roofing materials, from asphalt shingles to clay tiles, wood shakes to metal roofing. We utilize the best cleaning techniques for each material, ensuring not only effective cleaning but also the preservation of your roof's integrity.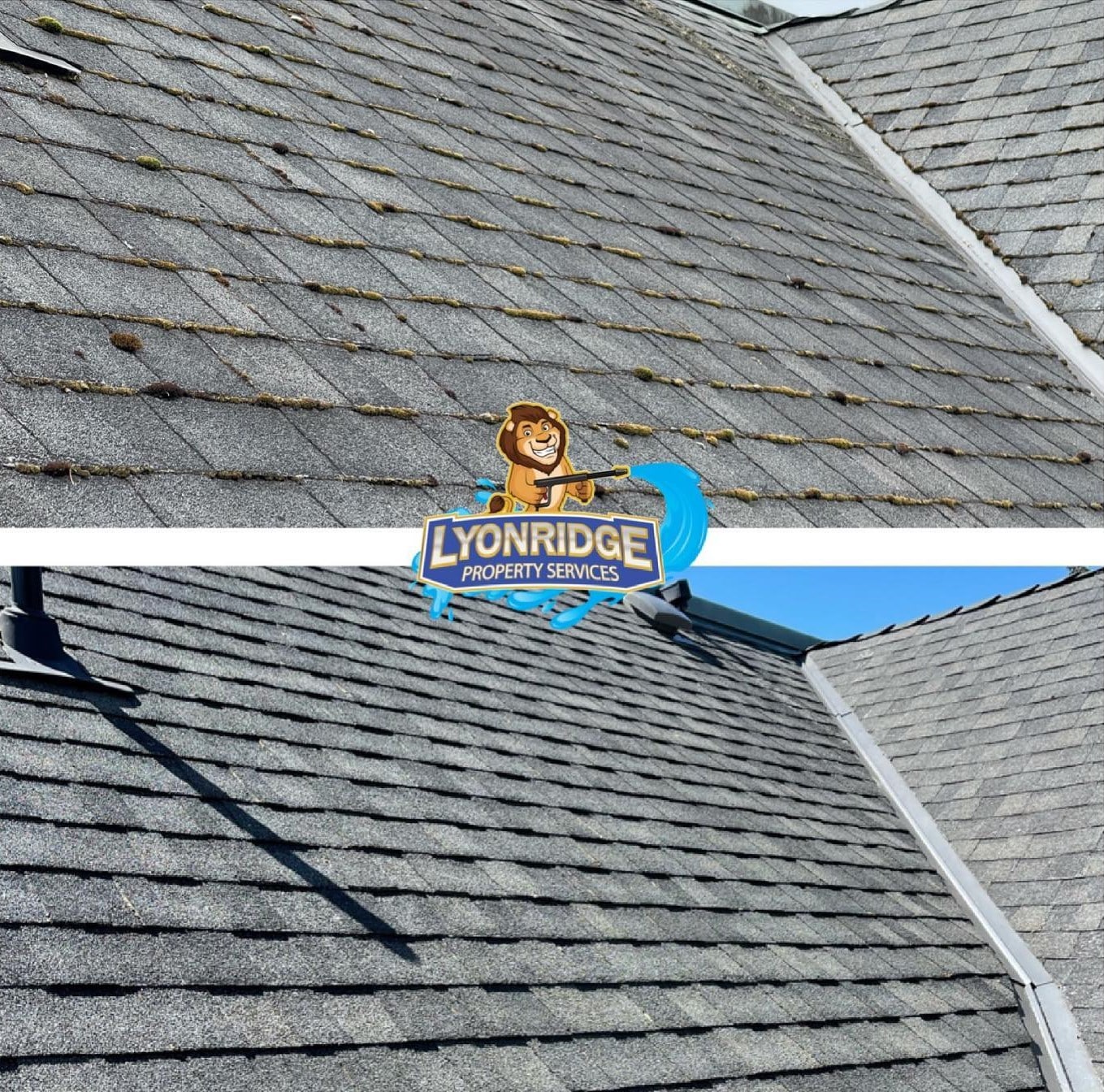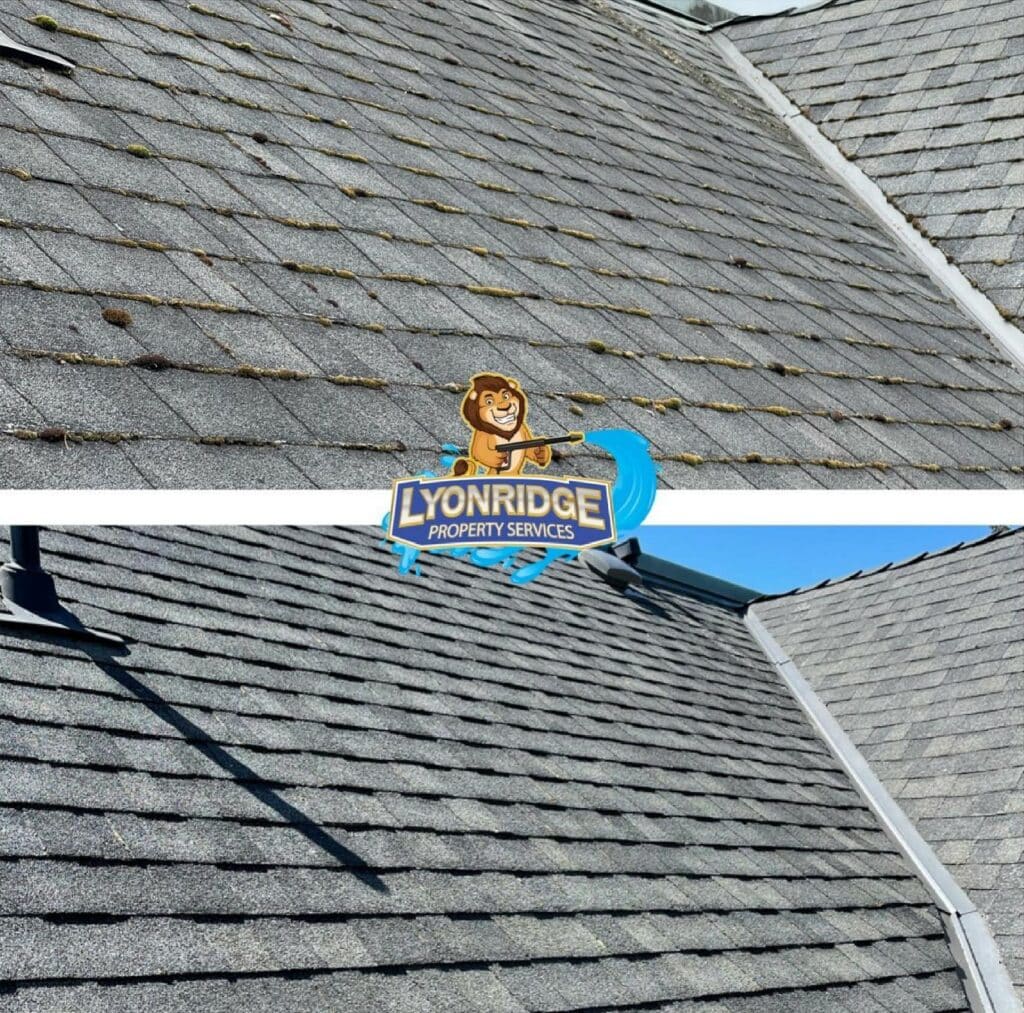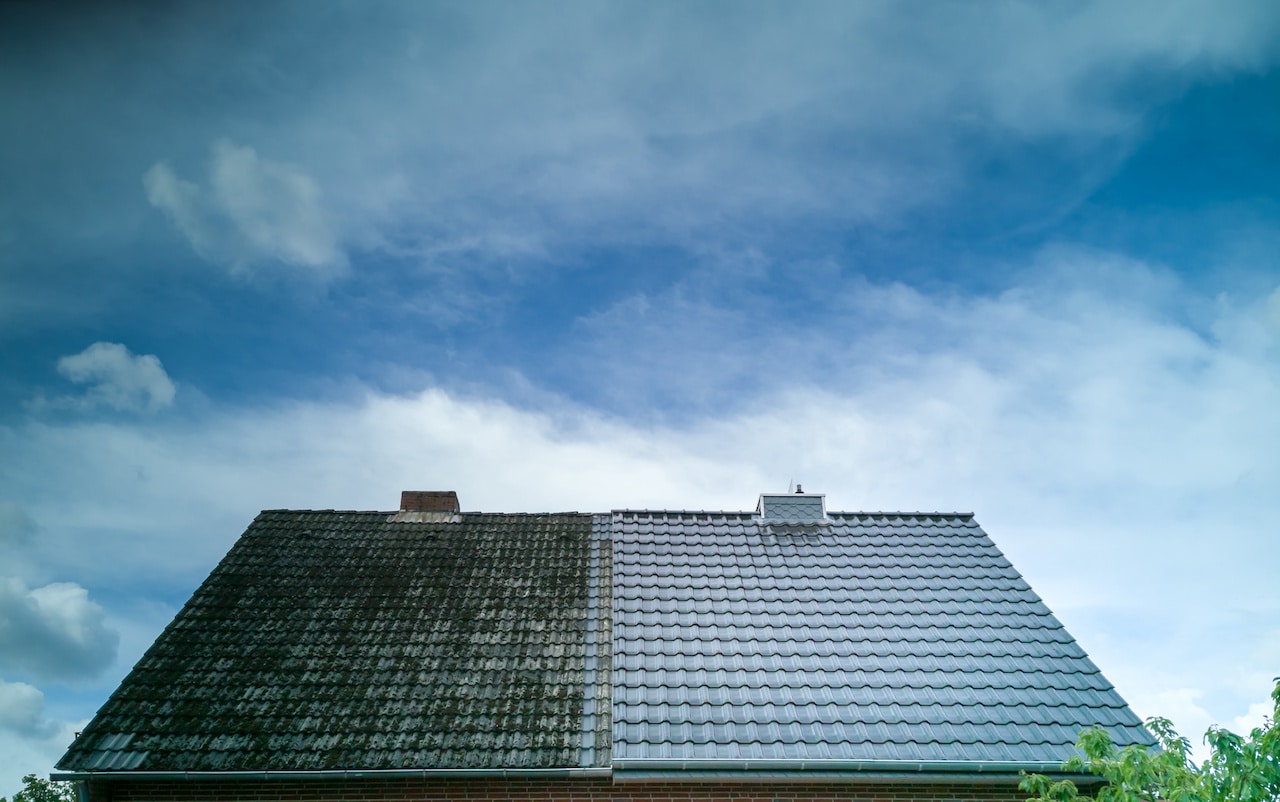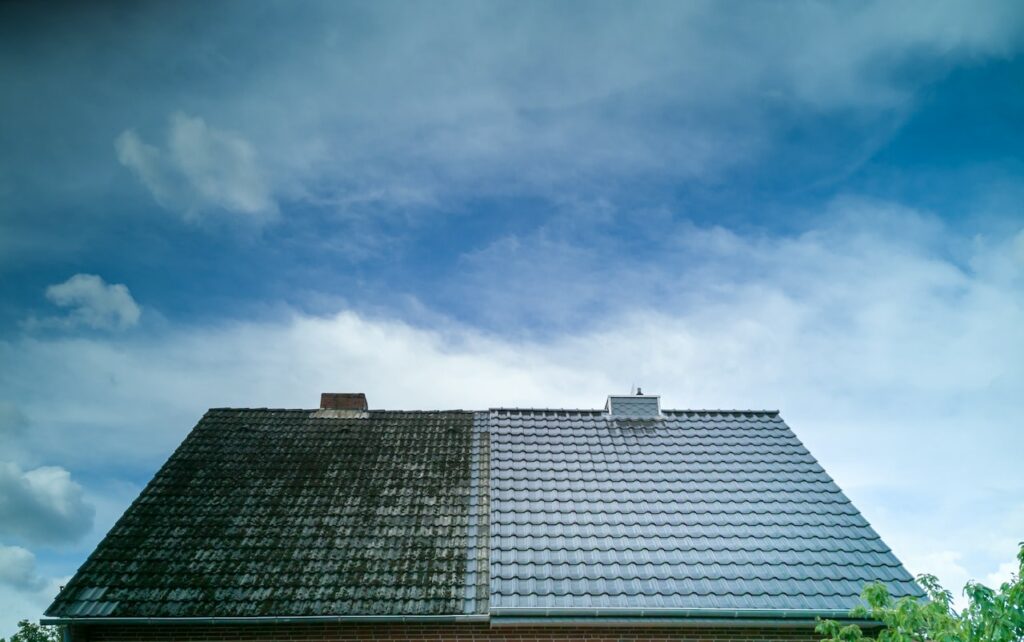 Come Experience


the Lyonridge Difference!
At Lyonridge Property Services, we believe in delivering nothing but the best. Our roof cleaning services aren't just about restoring your roof's beauty, we're able to provide a comprehensive solution that improves your home's health and longevity.
Our commitment to quality, paired with our deep understanding of the local architecture and climate, makes us the ideal choice for all your roof cleaning needs in Langley Township. So, if your roof has lost its shine or is showing signs of moss or algae growth, don't wait until it's too late! Contact Lyonridge Property Services today and let us restore help to bring your roof back to looking its best.
Purchased our home 5 years ago and recently had the guys from Lyonridge "wash" the roof to remove a build up of debris. The difference is unbelievable! Had no idea our roof ever looked like this. Looks like a brand new roof!
Rich and Jordan delivered top quality customer service on the house washing. They went above and beyond of what was expected and I would highly recommend them to anyone else!
Austin W.
Facebook Review
Fantastic service! Rich cleaned the exterior of the house and made it look brand new, including the fence and sidewalks. Totally recommend.
Tanner P.
Nextdoor Review