Local. Family Owned. Trusted.
Pressure Washing Maple Ridge BC
And the surrounding areas
Get the Local Touch:


Pressure Washing in Maple Ridge
At Lyonridge the customer always comes first. 
Maple Ridge is a beautiful city located in British Columbia, Canada. It is known for its stunning natural scenery, outdoor recreation opportunities, and vibrant community. The city is situated in the heart of the Fraser Valley, surrounded by mountains, forests, and lakes. Maple Ridge is a popular destination for those seeking to experience the great outdoors, with plenty of hiking, biking, fishing, and boating opportunities available.
For property owners in Maple Ridge, pressure washing services can be essential for maintaining the cleanliness and appearance of their properties. The city's damp climate can lead to the growth of mold, mildew, and algae on exterior surfaces, such as siding, roofs, decks, and patios. This not only looks unsightly, but it can also be harmful to the health of those who live or work on the property. Pressure washing is an effective way to remove these contaminants and restore the appearance of the property.
By regularly pressure washing the property, property owners can remove these contaminants and prevent damage to their property. This can ultimately save them money in the long run by reducing the need for costly repairs or replacements. Lyonridge Property Services is a professional property maintenance company that provides a range of services, including pressure washing, to property owners in Maple Ridge and surrounding areas. Our team of experienced and skilled professionals uses state-of-the-art equipment and eco-friendly cleaning solutions to deliver high-quality results.
Discover the Power of Clean


in Maple Ridge, BC with Lyonridge Property Services
When you're in Maple Ridge and you search for "pressure washing near me," you're likely to see a plethora of options. But not all pressure washing services are created equal, and very few take the environment into account. At Lyonridge, our approach to pressure washing is different. We've consciously chosen to incorporate eco-friendly practices into our services, ensuring we deliver not just excellent results, but also uphold our responsibility to the environment.
Our eco-friendly pressure washing technique harnesses the natural power of water, heat, and pressure to remove stubborn stains, dirt, grime, and mildew from various surfaces. This methodology negates the need for harmful chemical cleaners, which often have adverse environmental and health impacts.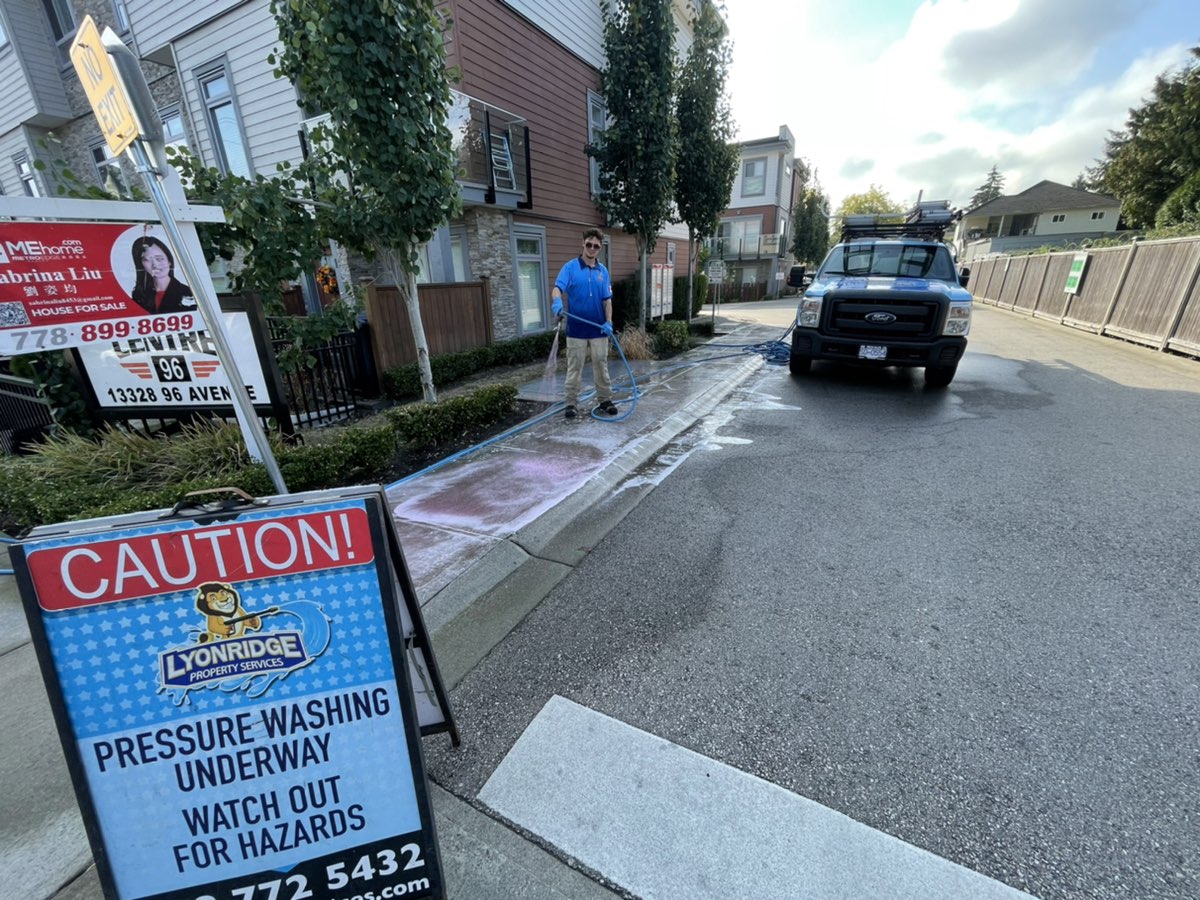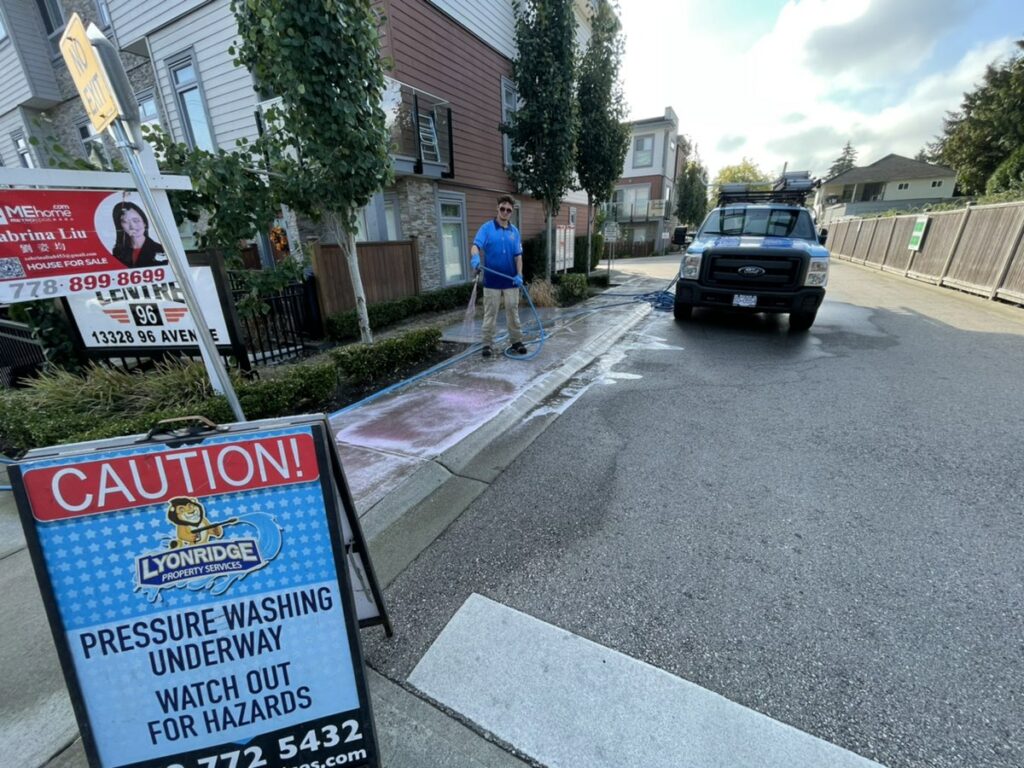 Call Us Today for a Free Quote!
We want to earn your business and turn you into a long-term customer. 
Eco-Friendly


Pressure Washing for the Future
When you choose our pressure washing services in Maple Ridge, you're opting for a cleaning process that's designed with sustainability in mind. Our high-pressure water spray is incredibly effective in dislodging accumulated dirt and grime from surfaces. This approach is especially beneficial for concrete cleaning, restoring the surface to its original state without the need for aggressive chemical treatments.
But what makes our approach truly eco-friendly is the careful management of water use and wastewater disposal. Despite using water at high pressure, our techniques are designed to optimize water use, reducing wastage while ensuring a thorough cleaning.
Once the cleaning process is complete, the handling of wastewater is a crucial aspect of our service. Instead of allowing the wastewater, now filled with dislodged dirt and potential pollutants, to enter storm drains and potentially harm local waterways, we collect and dispose of it responsibly. Our team is trained to follow strict procedures to capture, contain, and properly dispose of wastewater in compliance with local regulations and our environmental commitments.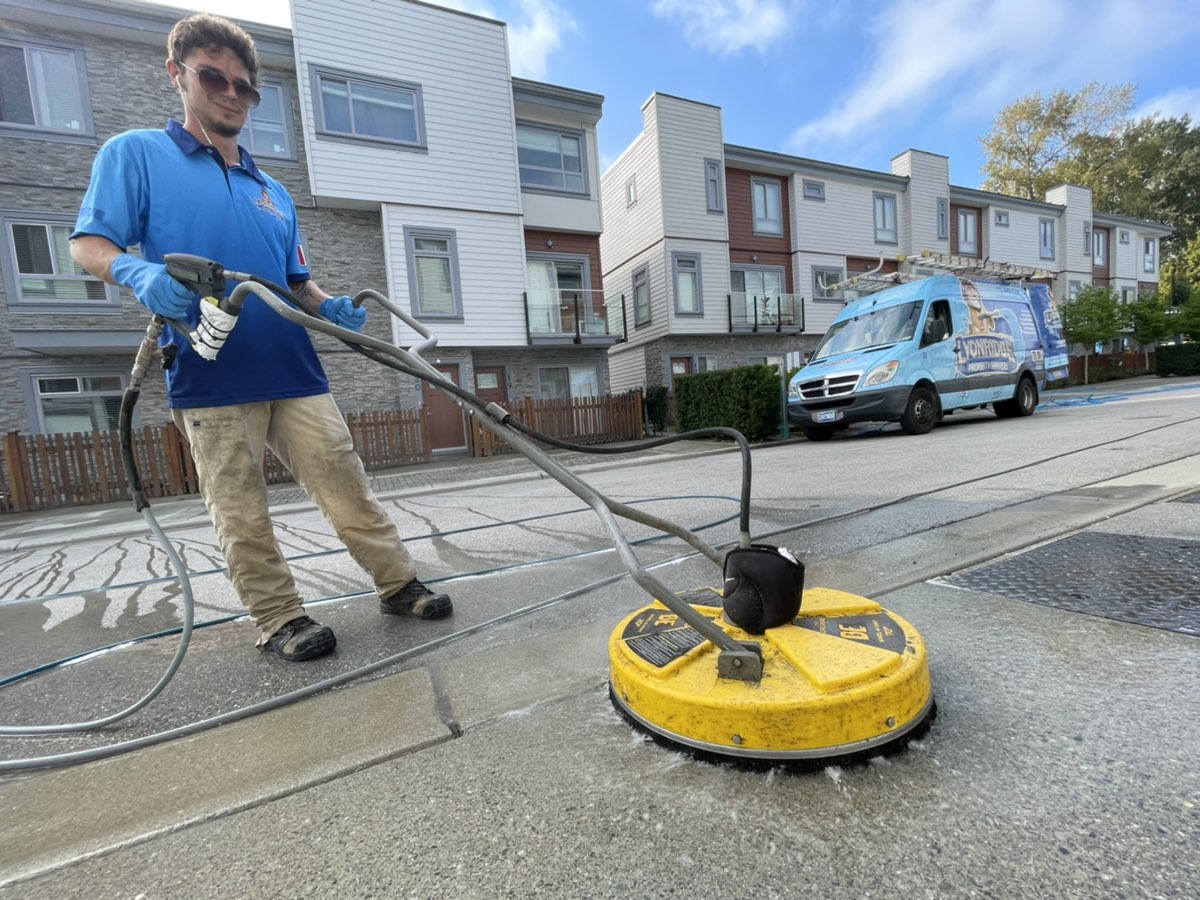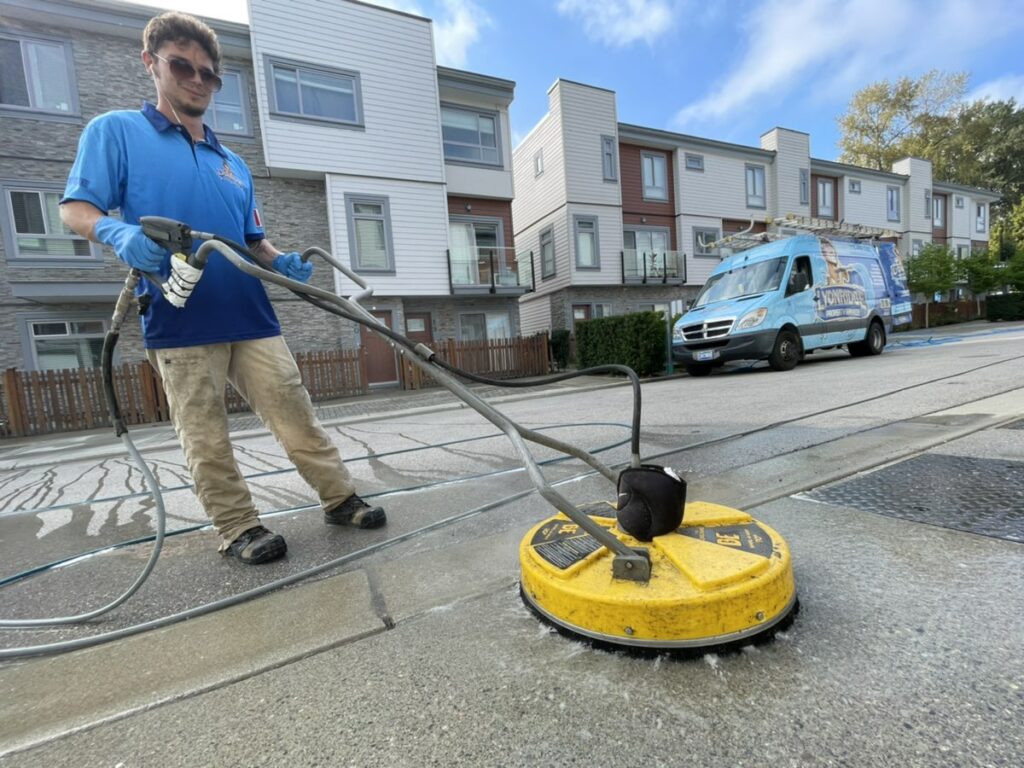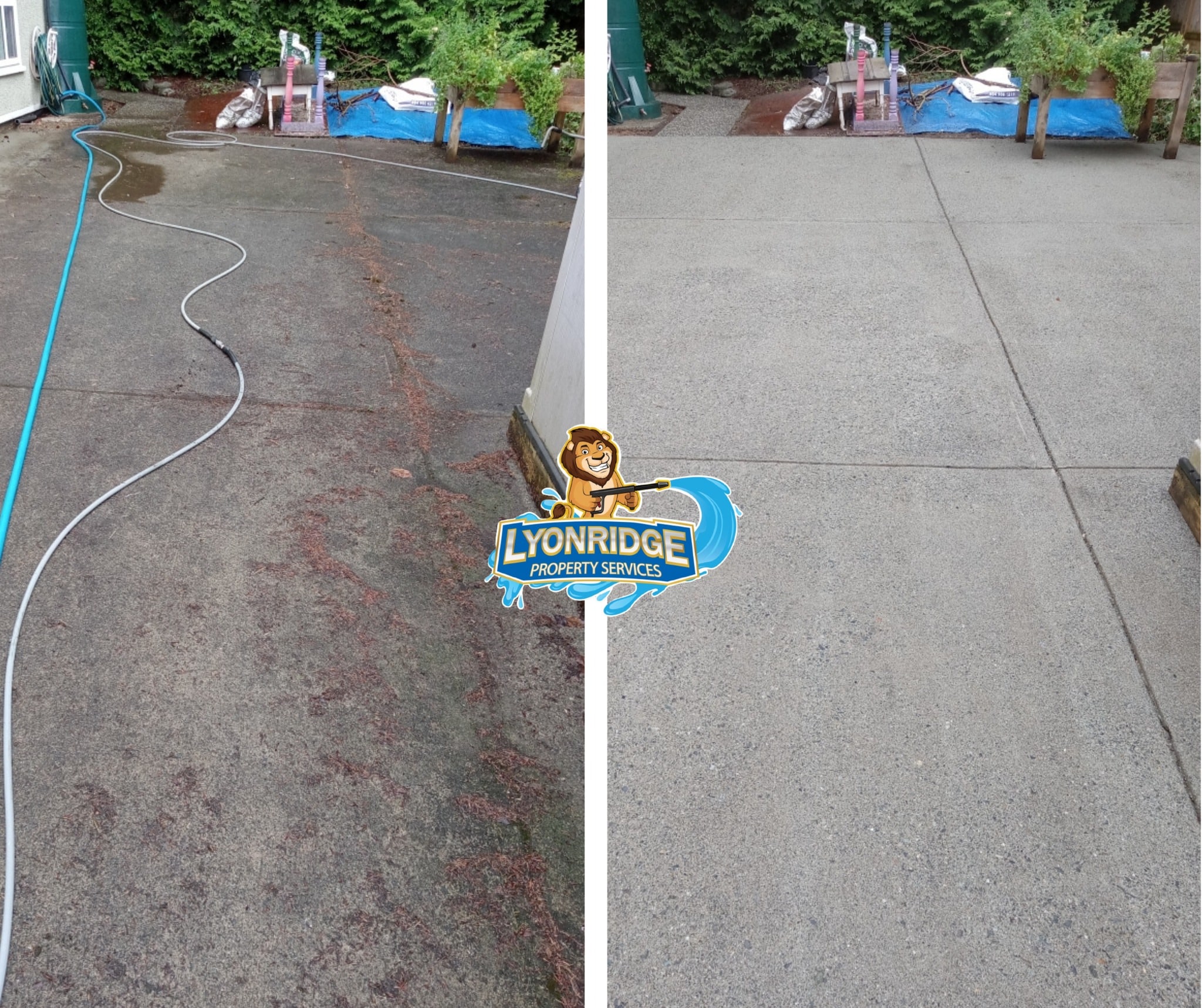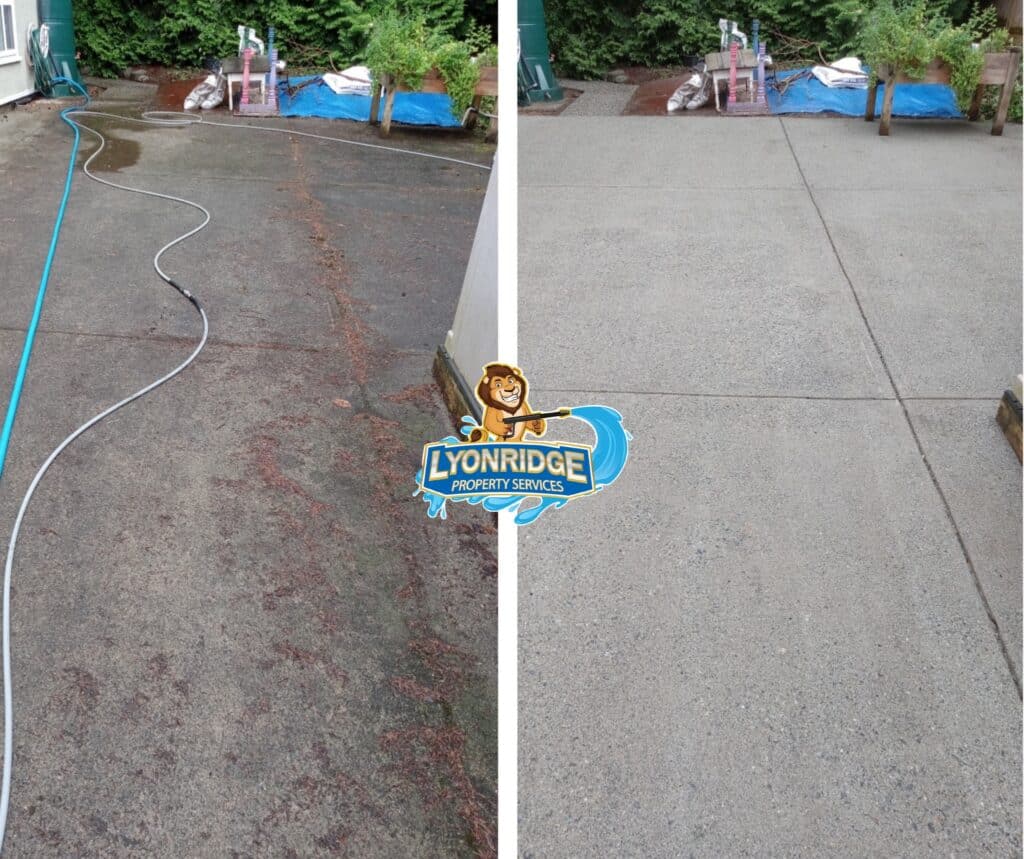 Your Local Partner in


Eco-Friendly Pressure Washing Services
In a market populated with pressure washing companies in Maple Ridge, we stand apart through our commitment to both quality service and environmental sustainability. As a local company, we are not merely a provider of "pressure washing near me." We're your neighbors, deeply invested in maintaining the beauty and health of our city.
Our pressure washing services in Maple Ridge reflect our dedication to environmental stewardship. We believe in providing a service that not only meets your cleaning needs but also aligns with your values for a sustainable future. When you choose Lyonridge, you're partnering with a team that cares for your property as much as they care for the environment. Every step we take, and every process we follow, is guided by a commitment to sustainable practices.
So, if you're looking for power washing services that deliver exceptional results while caring for our planet, Lyonridge Property Services is ready to serve you. Reach out to us today, and let's embark on a journey to restore the shine to your property, all while contributing to a greener Maple Ridge. Remember, we're not just cleaning properties, we're helping to keep Maple Ridge beautiful and sustainable.
Don't wait to get your property professionally power washed with Lyonridge Property Services! Visit us online to request a complimentary service quote, or give us a call to speak with one of our friendly service representatives who can answer your questions, and help you schedule your professional pressure washing appointment today!
Purchased our home 5 years ago and recently had the guys from Lyonridge "wash" the roof to remove a build up of debris. The difference is unbelievable! Had no idea our roof ever looked like this. Looks like a brand new roof!
Rich and Jordan delivered top quality customer service on the house washing. They went above and beyond of what was expected and I would highly recommend them to anyone else!
Austin W.
Facebook Review
Fantastic service! Rich cleaned the exterior of the house and made it look brand new, including the fence and sidewalks. Totally recommend.
Tanner P.
Nextdoor Review
And the surrounding areas