Local. Family Owned. Trusted.
Commercial Pressure Washing Langley BC
And the surrounding areas
Professional


Commercial Pressure Washing Langley, BC Residents Rely On
At Lyonridge the customer always comes first. 
Lyonridge Property Services is a top-rated, family, and locally-owned company that specializes in commercial pressure washing in Langley, BC. We utilize the experience, skills, and training we've gained over the years, and we put them to the test with every job that we do. Our team uses innovative equipment and high-quality professional-grade products to provide you with transformative and impressive results. We aim to exceed your expectations, and our goal is that you're 100% satisfied with the final results. 
While the exterior surfaces of your building and property are built to last, everything eventually will be overtaken by wear and tear. However, to slow down that process, you must protect and maintain your investments with routine cleanings. Pressure washing is a great way to prevent damage caused by the build-up of mold, dirt, pollen, mildew, stains, algae, moss, weather, foot traffic, etc. These materials can eat away at the exterior surfaces of your building and property, which could lead to having to replace these surfaces much sooner than you may have anticipated. A routine commercial power washing service can extend the lifespan of your surfaces and boost their curb appeal.
Top-Rated


Parking Lot Cleaning
Did you know that the appearance of your parking lot says a lot about your business? While many business owners don't believe that they need to worry about the state of their parking lot, they should. It's no secret that first impressions when it comes to your business are vital. The first impression your customer has of the outside of your building and property must be a great one, as it sets the tone for how they will feel about the rest of your business. Your parking lot is typically the first thing that your customers will see when they arrive at your business, and if it's completely filthy, it could relay the wrong message to them that you don't take the best care of your business. Depending on how dirty your parking lot is, they may not make it any farther than that. Don't lose out on a potential sale based on the cleanliness of your parking lot. It's important to take back control of the well-being, safety, and cleanliness of your parking lot with our parking lot cleaning service. We will be able to remove anything in your parking lot that could be bringing down its appearance, like stains, dirt, spills, discoloration, bird droppings, etc.
With our parking lot cleaning service, we will also be able to make your parking lot a little safer by removing harmful materials that could have the potential of hurting your customers or employees. When your parking lot is covered in debris or spills, it can become a fall risk. Someone could easily trip or fall in your parking lot. We will effectively remove these materials with our commercial pressure washing service and create a safer and more attractive environment. Our team provides the best commercial power washing Langley, BC local business owners trust.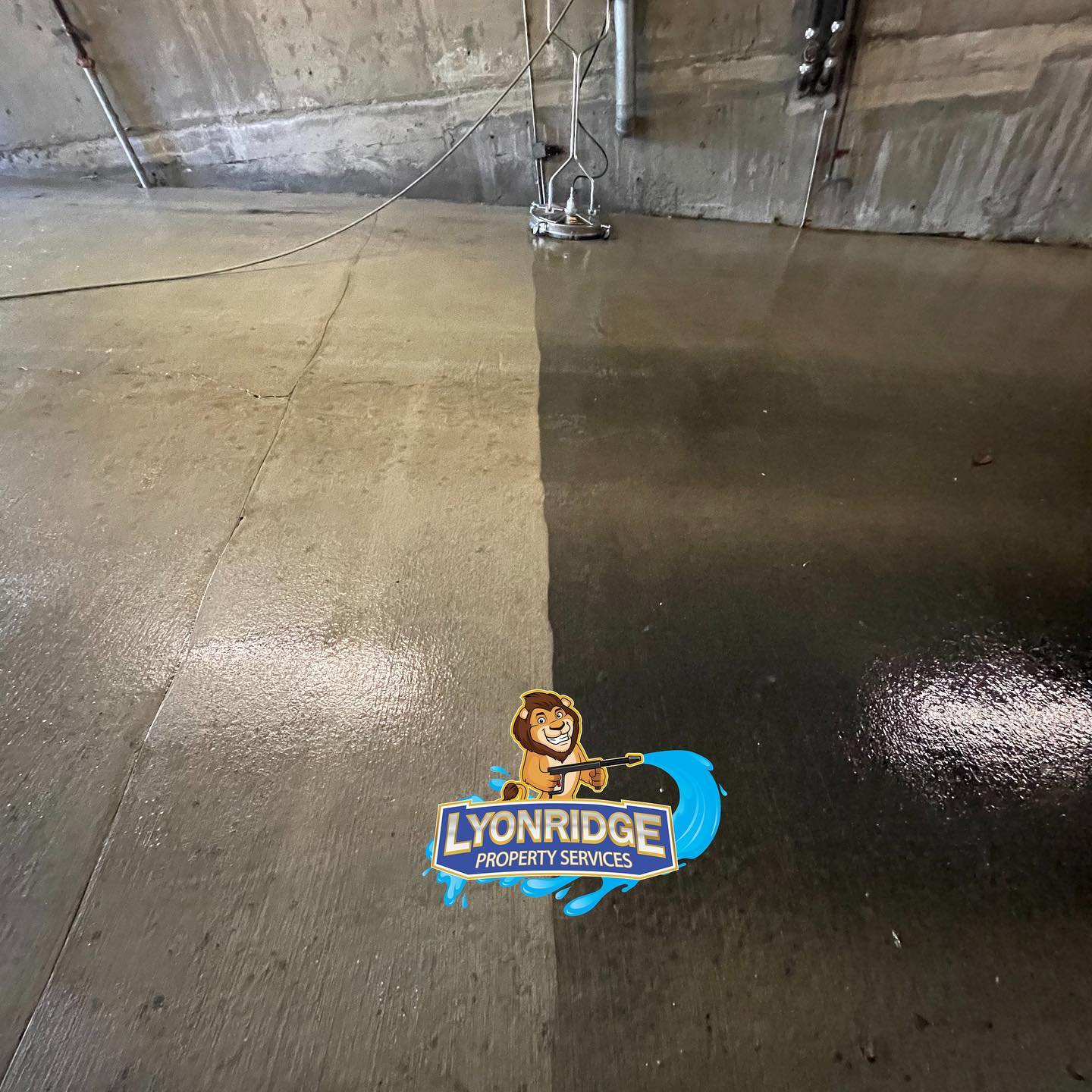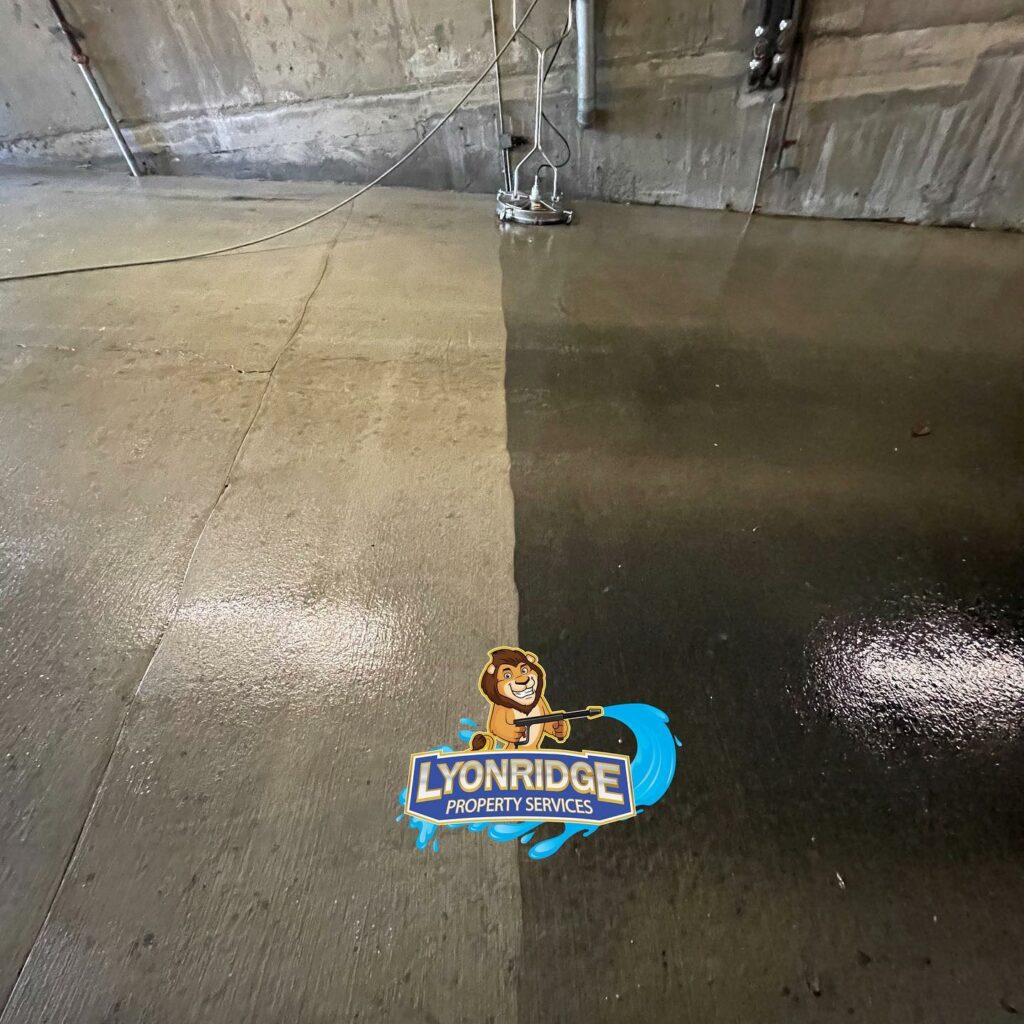 Call Us Today for a Free Quote!
We want to earn your business and turn you into a long-term customer. 
High-Quality


Commercial Window Cleaning In Langley, BC
Has it been a while since you've had your commercial windows cleaned? It can be easy to forget or neglect your windows because you, either don't want to clean them, or your windows are out of reach. Regardless of the reason why your windows haven't been cleaned in a while, you mustn't neglect them. While dust, dirt, pollen, etc., don't seem very harmful, they can be to your windows. They can scratch your windows, leaving them vulnerable to early wear and tear. Without regularly cleaning your windows, you may begin to notice cracks, chips, or even a lack of insulation. These risks can be avoided or at least slowed down with routine window cleanings. Regular cleanings will also improve the appearance of your windows. Commercial windows have the capability of getting quite dirty throughout the day, and they need to be cleaned even more than residential windows due to the foot traffic that your business sees. You can count on our team to provide you with the best and most convenient commercial window cleaning in Langley, BC. We will ensure that your windows are bright, sparkly, and streak-free by the time we leave.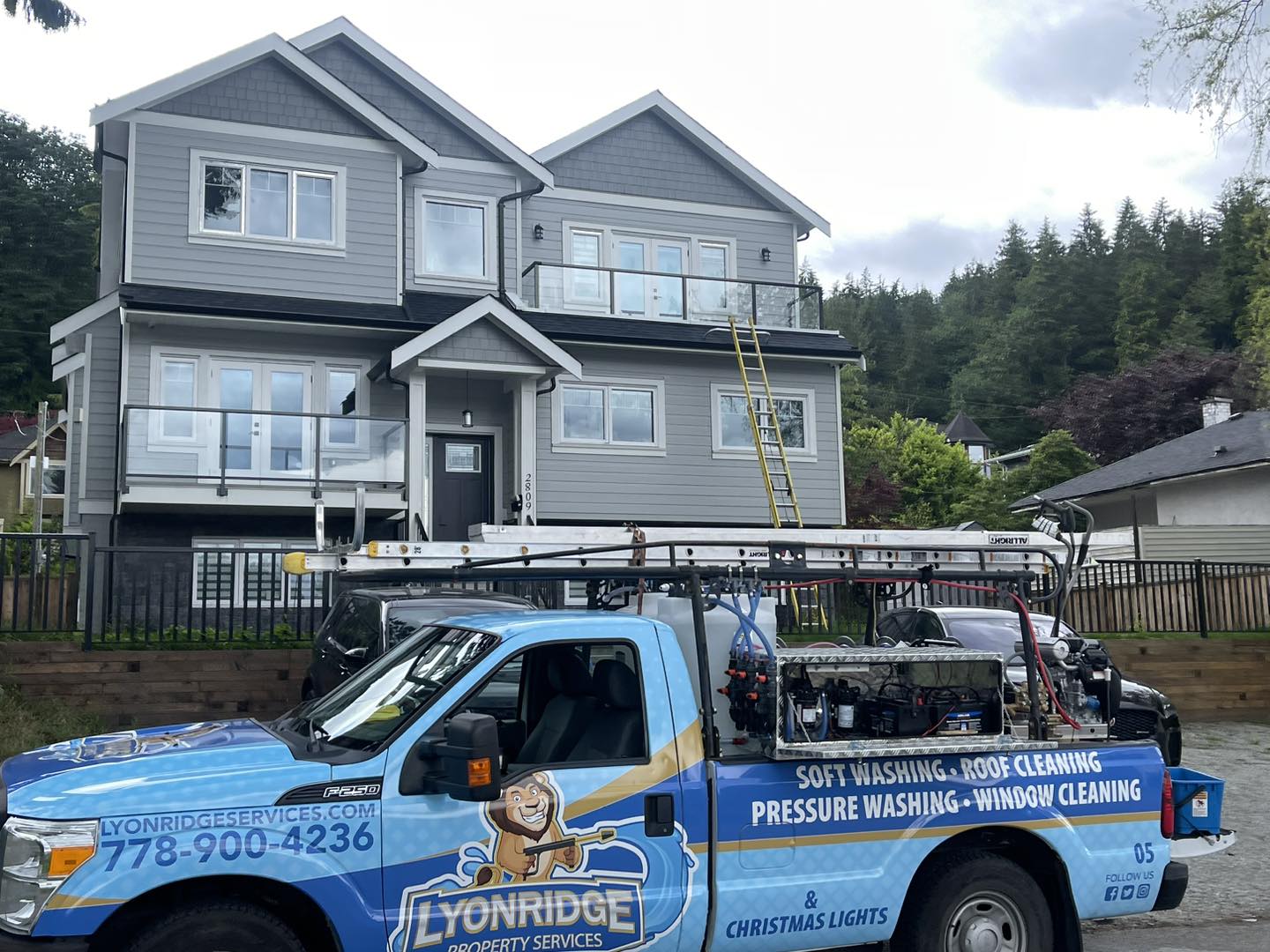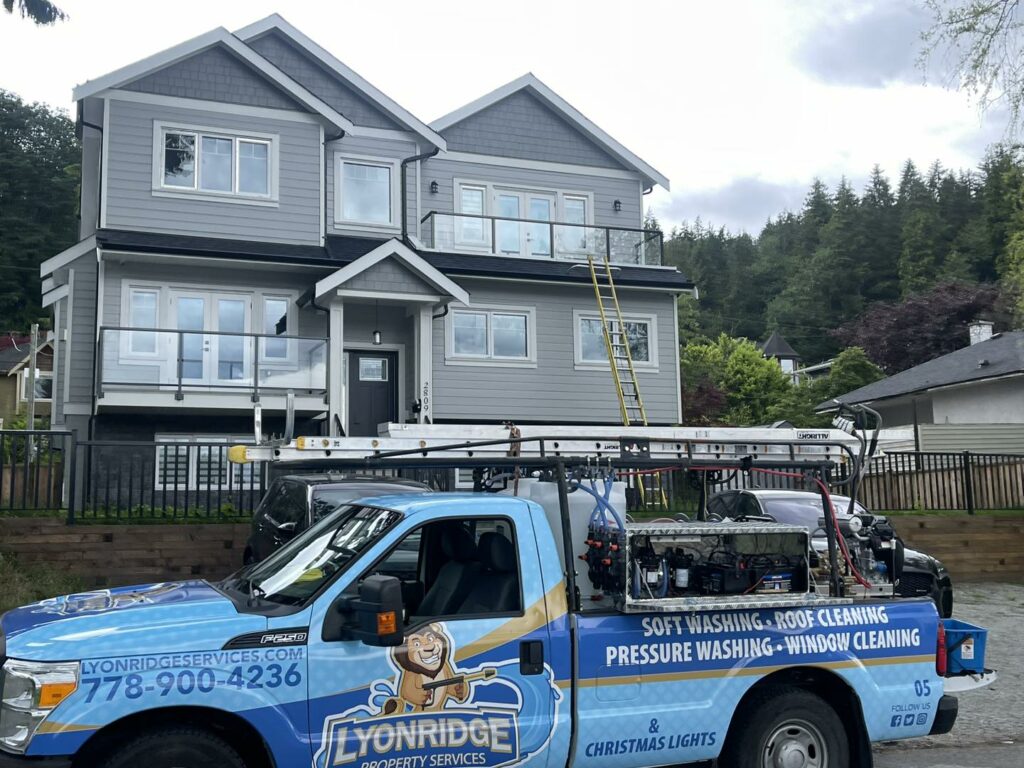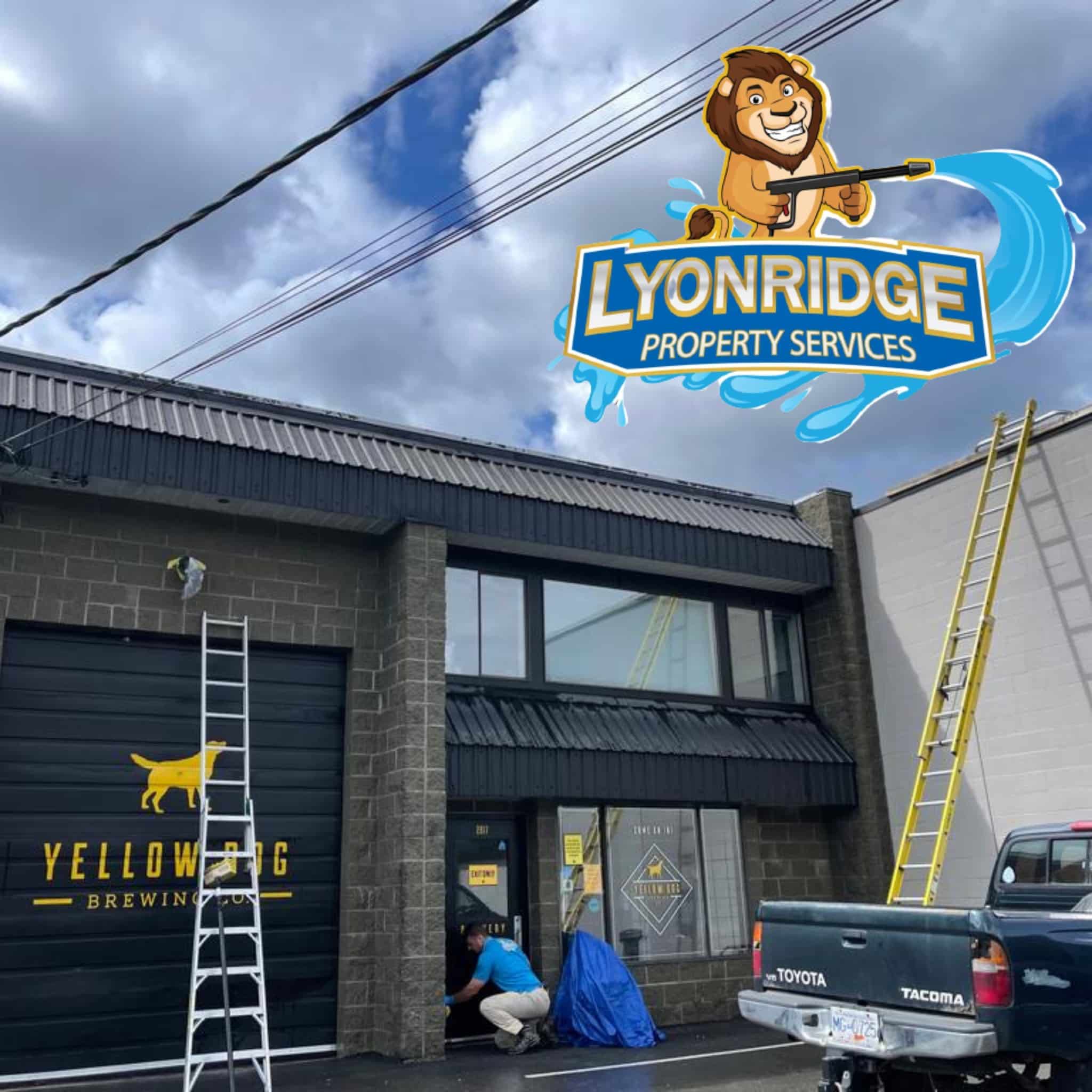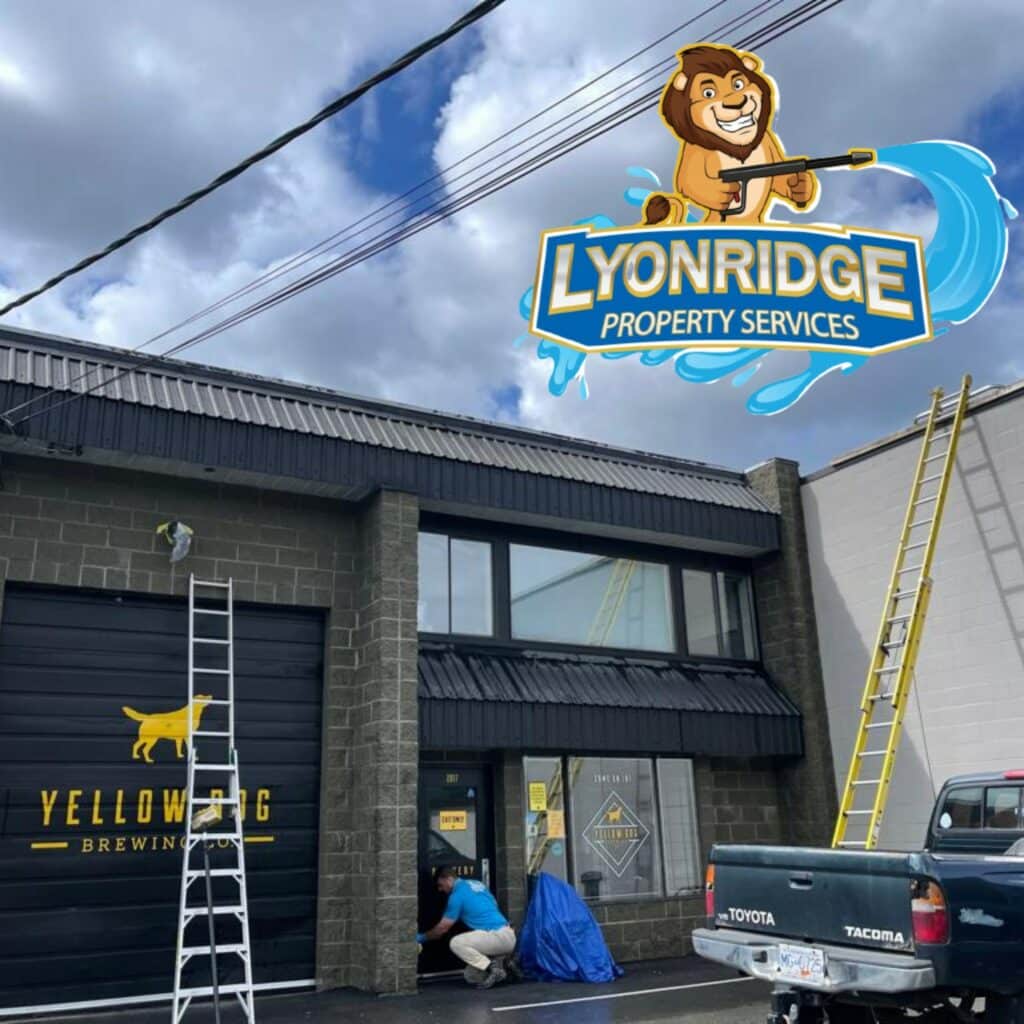 Reach Out


To Us For Commercial Pressure Cleaning Services!
Are you tired of the outside of your building or property being dirty, discolored, or stained? It doesn't have to be this way, and restoring the beauty of your business is quite simple with our services at Lyonridge Property Services. We will get the exterior surfaces of your building and property back to looking as good as new before you know it. To learn more about the commercial pressure cleaning services we offer or for a free quote, make sure you reach out to us today!
Purchased our home 5 years ago and recently had the guys from Lyonridge "wash" the roof to remove a build up of debris. The difference is unbelievable! Had no idea our roof ever looked like this. Looks like a brand new roof!
Rich and Jordan delivered top quality customer service on the house washing. They went above and beyond of what was expected and I would highly recommend them to anyone else!
Austin W.
Facebook Review
Fantastic service! Rich cleaned the exterior of the house and made it look brand new, including the fence and sidewalks. Totally recommend.
Tanner P.
Nextdoor Review